E-book
Trump University Real Estate 101: Building Wealth With Real Estate Investments, 2nd Edition
ISBN: 978-0-470-50032-3
304 pages
August 2009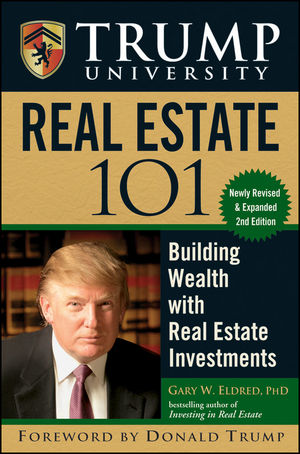 Trump University books are practical, straightforward primers on the basics of doing business the Trump way—successfully. Written by leading experts and including an inspiring Foreword by Trump himself, these books present smart business wisdom illustrated with real-life examples from Trump and other world-renowned experts. Perfect for anyone who wants to get ahead in business without the cost of an MBA, these street-smart guides provide real-world business advice based on the one thing you can't get in any business school—experience.
In Trump University Real Estate 101, Second Edition, you'll learn how to:
Develop your entrepreneurial abilities and invest like a pro

Make money especially in today's down market

Operate your rentals profitably even in weak markets

Create instant equity in any property

Calculate the effects of financing on cash flows and property values

Use options and assignments to tie up properties

Forecast market trends whether up or down

Create and enhance the value of any property

And much more! 
See More
ACKNOWLEDGMENTS.
FOREWORD TO THE TRUMP UNIVERSITY 101 SERIES BY DONALD J. TRUMP.
PREFACE TO THE SECOND EDITION: WHY BUILDING WEALTH WITH REAL ESTATE JUST GOT BETTER.
CHAPTER 1: ENTREPRENEURING IN REAL ESTATE WITH DONALD TRUMP.
CHAPTER 2: YOU CAN STILL ACHIEVE WEALTH IN REAL ESTATE.
CHAPTER 3: HOW YOU CAN BECOME A REAL ESTATE ENTREPRENEUR.
CHAPTER 4: MAKE GREAT DECISIONS.
CHAPTER 5: SHARPEN YOUR ENTREPRENEURIAL THINKING.
CHAPTER 6: WHERE'S THE AREA HEADED—AND WHEN?
CHAPTER 7: CREATE MARKET SEGMENTS.
CHAPTER 8: CREATE UTILITY (BENEFITS) WITH AND WITHIN THE RULES.
CHAPTER 9: OFFER YOUR CUSTOMERS WHAT THEY WANT.
CHAPTER 10: MORE IDEAS TO CREATE A MOST VALUED PROPERTY.
CHAPTER 11: MARKET YOUR PROPERTY FOR TOP DOLLAR.
CHAPTER 12: THE EIGHT STEPS OF SUCCESSFUL MANAGEMENT.
CHAPTER 13: PAY LESS THAN THE PROPERTY IS WORTH.
CHAPTER 14: NEGOTIATE A GOOD DEAL.
CHAPTER 15: HOW TO VALUE PROPERTIES.
INDEX.
See More
Gary W. Eldred has been investing successfully in real estate for twenty-five years and has consulted on real estate issues with many Fortune 500 companies. He formerly served on the graduate business faculty of Stanford University and the University of Virginia. He is the bestselling author of Investing in Real Estate, Sixth Edition, The Beginner's Guide to Real Estate Investing, Second Edition, and The 106 Common Mistakes Homebuyers Make (and How to Avoid Them), Fourth Edition, all from Wiley.
See More