Influencing with Impact Participant Workbook: Creating Remarkable Leaders
ISBN: 978-0-470-50206-8
16 pages
October 2010, Pfeiffer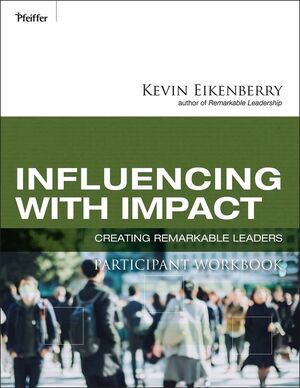 In this learning series, Kevin Eikenberry shares a set of powerful principles, skills, and action steps that develops leaders at all levels of the organization and anyone aspiring to be a leader.    With the starting framework that leaders become remarkable through learning, Eikenberry sets out to challenge the participant to be more intentional about what, when, and how they learn.  The learning model which serves as a foundation for the series outlines that a leader 1: Has an experience 2: Reflects on the experience 3: Generalizes from the experience and 4: Takes action.  The is an upward and continual spiral of learning.  Eikenberry contends that intentionally completing the cycle of learning helps leaders learn more from every experience and will lead to stronger leadership.  This is a practical and powerful set of skills that are covered in a series of 12 1 to 1.5 hour workshops.  Each workshop covers one key skill.  These skills include: Championing Changes, Communication, building relationships, Developing Others, Focusing on Customers, Influencing with Impact, Thinking and Acting Innovatively, Collaboration and Teamwork, Solving Problems and Making Decisions, Responsibility and Accountability, Managing Projects and Processes Successfully, Setting and Supporting Goals Achievement.
The key to the learning series is the flexibility.  There are 12 learning units and the facilitator can pick and choose which topics they want to cover.  Additionally, there is video content for each of the 12 workshop series.
See More
Kevin Eikenberry (www.kevineikenberry.com) is the Chief Potential Officer of The Kevin Eikenberry Group, a learning consulting company that provides a wide range of services including training delivery and design, facilitation, performance coaching, organizational consulting, and speaking services. He has worked with Fortune 500 companies, smaller firms, universities, government agencies, and more.
See More