Effective Grading: A Tool for Learning and Assessment in College, 2nd Edition
ISBN: 978-0-470-50215-0
272 pages
November 2009, Jossey-Bass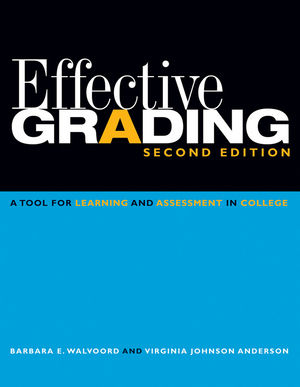 This new edition of the classic book has been thoroughly updated and revised with the latest research. The book offers a hands-on guide for evaluating student work and examines the link between teaching and grading. The authors show how to integrate the grading process with course objectives and offer a wealth of information about student learning. The book also includes information on integration of technology and online teaching, and is filled with more illustrative examples, including a sample syllabus. This revised resource can help any professor enrich student learning in the classroom.
See More
Preface to the Second Edition.
The Authors.
Chapter 1 Introduction.
PART ONE GRADING IN THE CLASSROOM.
Chapter 2 Clarifying Goals, Constructing Assignments.
Chapter 3 Fostering Healthy Student Motivation.
Chapter 4 Establishing Criteria and Standards for Grading.
Chapter 5 Linking Teaching, Learning, and Grading.
Chapter 6 Managing Time for Teaching, Learning, and Responding.
Chapter 7 Making Grading More Time-Efficient.
Chapter 8 Calculating Course Grades.
Chapter 9 Communicating with Students About Their Grades.
Chapter 10 Using the Grading Process to Improve Teaching.
PART TWO HOW GRADING SERVES BROADER ASSESSMENT PURPOSES.
Chapter 11 Assessment for Departments and General Education.
Chapter 12 Case Studies of Departmental and General Education Assessment.
Chapter 13 Assessment for Grant Proposals.
Appendix A: Examples of Rubrics.
Appendix B: Example of Departmental Assessment Report.
References.
Index.
See More
Barbara E. Walvoord
is professor emerita at the University of Notre Dame. For more than thirty years she has been leading faculty workshops across the country on the topics of grading, assessment, teaching, learning, and writing across the curriculum. She is the author of
Assessment Clear and Simple
from Jossey-Bass.
Virginia Johnson Anderson is professor of biology at Towson University. In her published works, numerous workshops, and consulting with the National Science Foundation Urban Science Initiatives, she addresses teaching, learning, and assessment in the sciences.
See More
Learn more about