Introducing Maya 2011
ISBN: 978-0-470-50216-7
664 pages
May 2010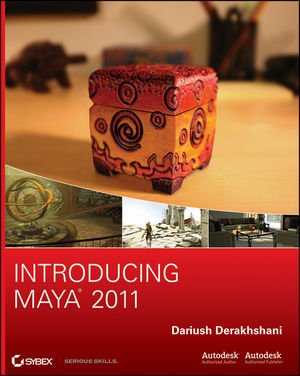 A practical, step-by-step guide to Maya 2011
Four previous editions can't be wrong: this book is the perfect introduction to 3D and Maya. Learn to build and animate your own digital models and scenes with step-by-step instruction and fun and practical examples, while you draw inspiration from the striking examples included from talented Maya users. You'll create a simple animation of the planets in the solar system, learn to model a human hand and a decorative box—among other projects—and master all essential tools.
Provides a thorough, step-by-step introduction to Maya 2011
Explains the core concepts of CG and working in 3D
Covers modeling, rigging, HDRI lighting, mental ray rendering, and more
Provides project files on CD and walks you through the creation of several projects; the CD also includes images, movies, and scene files
Includes a color insert with pages of striking examples from talented Maya beginners
Build your Maya and animation skills from the ground up with this practical, thorough guide.
Note: CD-ROM/DVD and other supplementary materials are not included as part of eBook file.
For Instructors: Teaching supplements are available for this title.
See More
1. Introduction to Computer Graphics and 3D.
2. Jumping In Headfirst, With Both Feet.
3. The Maya 2011 Interface.
4. Beginning Polygonal Modeling.
5. Modeling With Nurbs, Subdivisions, and Deformers.
6. Practical Experience.
7. Maya Shading and Texturing.
8. Introduction to Animation.
9. More Animation!
10. Maya Lighting.
11. Maya Rendering.
12. Maya Dynamics and Effects.
See More
Dariush Derakhshani is an award-winning visual effects supervisor, author, and educator. He has worked on movies such as The Fantastic Four and Pan's Labyrinth, the South Park TV series, and countless commercials and music videos. He teaches Maya and 3D animation, and is the author of all the Introducing Maya books as well as coauthor of Mastering Maya 8.5 and Introducing 3ds Max 2008, all from Sybex.
See More
| Download Title | Size | Download |
| --- | --- | --- |
| Global Illumination Exercise - Introducing Maya 2011 | 1.05 MB | Click to Download |
See More
September 17, 2010
Introducing Maya 2011
Connect with Wiley Publicity
Award-winning 3D animator, educator, and author, Dariush Derakhshani sits down for an interview to discuss his latest book, Introducing Maya 2011.
See More
Learn more about