E-book
Using the Internet Safely For Seniors For Dummies
ISBN: 978-0-470-50271-6
384 pages
June 2011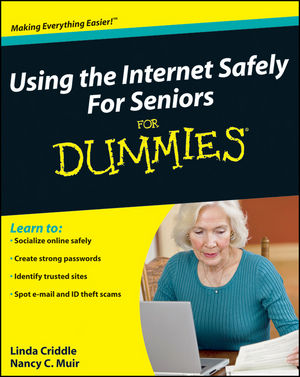 The Internet is amazing, but the risks you've heard about are real, too. You can avoid being a victim of online crime with the simple steps for staying safe online that you'll find in
Using the Internet Safely For Seniors For Dummies.
Here's the guide you need to steer safely through the hazards so you can shop, visit, invest, explore, pay bills, and do dozens of other things online — more securely. Learn to protect yourself from online predators, create strong passwords, find reliable information, spot e-mail and phishing scams, and much more.
Find out how to share photos and videos, chat with others, and participate in online discussions—securely
See how, with strong passwords and reasonable caution, online banking and bill-paying might be safer than the old way
Learn to install and set up a browser, use search engines effectively, and sidestep suspicious ads
Discover how personal information is collected and used by legitimate companies — and by crooks
Be able to spot risks, find out how online criminals think, and know what makes you vulnerable
Enjoy social networking sites without putting yourself at risk
Spot reputable healthcare sites and avoid medical ID theft and scams
There's even a glossary of common computer terms and a guide to your rights when using the Internet. Using the Internet Safely For Seniors For Dummies helps you feel more secure by showing you how to protect yourself while enjoying the Web.
See More
Introduction 1
About This Book 1
Foolish Assumptions 1
Why You Need This Book 2
How This Book Is Organized 3
Get Going! 4
Part I: The Foundation of Using the Internet Safely 5
Chapter 1: Understand What's Going On Out There 7
Congratulations: You're the Most Sought-After Generation Online 8
Roads Have Rules, The Internet Doesn't 10
Online Anonymity 12
It's Not Always about Technology; It's Often about Behavior 14
Hit or Myth: Online Information Exposure 16
Keep Your Information Private 18
How Information Accumulates 18
Online Information Is Forever 21
Chapter 2: How the Internet Views You 23
Understand the Online Financial Model 23
What Information Do Others Want, and Why? 25
How Posted Information May Be Used against You 26
Set Boundaries for Information Exposure 27
How Web Sites Use Demographics 29
How Search Engines Use Your Information 31
Understand Terms and Conditions 32
Quizzes and Surveys 34
Protect Yourself 36
Chapter 3: Raise Your Safety Bar Today 39
Avoid Online Chain Letters 39
Don't Play Russian Roulette with Links 41
Using the Internet Safely For Seniors For Dummies
Create Safer E-Mail Aliases 44
Use Passwords Wisely 46
Recognize Weak Passwords 47
Create Strong Passwords 48
Beware of Simple Password Hints 50
Figure Out Who's Exposing You 51
Be Careful What You Share Online 52
Avoid Risky Default Settings 54
Spot Bad Sites a Mile Away 56
Understand the Risks in Contests and Sweepstakes 58
Part II: Using the Internet While Dodging the Risk 61
Chapter 4: Navigating the Internet Safely 63
Choose the Best Browser for You 64
Identify Secure and Trusted Web Sites 67
Explore Browser Navigation 68
Use Tabs in Browsers 71
Set Up a Home Page 72
Add a Web Site to Favorites 74
Organize Favorites 75
View Your Browsing History 76
Search the Internet 78
Search Within a Web Page 80
Use Caution with Internet Ads 82
Avoid Download Theft and Plagiarism 85
Download Safely 86
Customize Browser Security Settings 87
Chapter 5: Risk-Free E-Mail 89
E-Mail Safety Basics 90
Create an E-Mail Account 92
Create Safe E-Mail Aliases 97
Hide Your Name in E-Mails 99
Send an E-Mail 101
Add an Attachment 103
Open an Attachment 105
Forward E-Mails 107
Reply to E-Mails 109
Manage Spam 110
Use Spam Filters 111
Use Verification Programs 114
File a Spam Complaint 115
Recognize Fraud and Scams 116
Avoid the Latest E-Mail Scam-of-the-Day 118
Deal with Phishing E-Mails 119
Chapter 6: Posting Photos and Videos Safely 123
How a Picture Can Put You at Risk 124
Share Photos Safely 128
Share Videos Safely 130
Avoid Image Copyright Infringement 132
Use Web Cams 133
Save Photos and Videos in Different Formats 134
Chapter 7: Sharing Your Information with Others 137
Your Information Is Online, Even If You Aren't 138
Understand How Information Is Spread and Collected 141
Consider the Cumulative Effect 143
Find Yourself Online 145
Respect Other People's Information 147
Spot How People Expose Others 148
Use Discussion Boards 149
Participate in Chat 151
Contribute to Social Journaling Sites 153
Send and Receive Instant Messages (IMs) 155
Safety Tips for Instant Messaging 158
Chapter 8: Getting the Most from Social Networks and Blogging 163
Overview of Collaborative and Social Networking Sites 164
Tips for Safe Blogging 166
Using the Internet Safely For Seniors For Dummies
Sign Up for a Social Networking Service 170
Spam and Other Malware on Blogs and Social Networks 174
Understand Site Privacy Settings 174
Meet Someone Safely Offline 176
Online Quizzes and Surveys 176
Report Abuse 178
Chapter 9: Dating Safely Online 181
How Online Dating Works 181
Guidelines for Safer Online Dating 183
Select a Dating Service 186
Avoid Emotional Exposure 187
Understand How Criminals Groom Victims 189
Chapter 10: Being Entertained Online 193
Play a World of Games Online 193
Safely Gaming Online 196
Select a Gaming Site 198
Play Console Games 200
Play Games on Handheld Devices 202
Play Games on Your Mobile Phone 202
Participate in Massively Multiplayer Online Games (MMOGs) 203
Gamble Online 205
Access Videos and Music Online 207
Chapter 11: Grandparents Rule! 211
Understand How Kids Use the Internet 212
Checklist for Online Family Safety 213
Help Protect Grandchildren Using E-Mail 216
Help Create Safe Instant Messaging Experiences 217
Stay Safer on Social Networking Sites 219
Blog Safely 222
Understand Exposure in Quizzes and Surveys 225
Understand Mobile Phones and Texting 227
Choose Between a Pre-Paid and Monthly Phone Account 229
Protect Students at School 231
Play Games Safely 232
Understand the Act of Cyberbullying 234
Six Steps to Avoid and Prevent Cyberbullying 235
What to Do If Your Grandchild Is Cyberbullied 237
Talk to Kids about Sexual Predators 239
If You Think Your Grandchild Is Being Groomed 241
Report Sexual Abuse 242
Use Software to Keep Grandkids Safer 243
Protect Yourself As Well 244
Part III: Protecting Your Wealth and Your Health 245
Chapter 12: Shop 'Til You Drop But Safely 247
Overview of Online Shopping Safety 248
Choose Safe Sites 250
Make Online Purchases 253
Sell on Classified Sites 255
Buy on Classified Sites 257
Payment Services 259
Online Auctions 260
Chapter 13: Watching Your Pennies Online 263
Invest Online 263
Bank Online 265
Protect Your Identity Online 267
Understand Medical ID Theft 269
Online Personal Health Records 270
Understand the Risk of Identity Theft by Age 271
Get Your Free Credit Reports 272
Freeze Your Credit 274
Continue Protecting Your Identity Online 275
Chapter 14: Healthcare That Makes You Feel Better 279
Connect with Others with Similar Concerns 280
Be Wise about Using Online Medical Advice 282
Using the Internet Safely For Seniors For Dummies
Discount Drugs and Online Prescriptions 284
Medical Identity Theft 286
Warning Signs of Health Fraud 288
Surveys on Health Can Make You Sick 290
Miracle Medicine For Sale 292
Part IV: Being Proactive 299
Chapter 15: Using Technology to Keep You Safer 301
Understand Computer Security 302
Understand Windows Update Options 305
Run Windows Update 307
Enable the Windows Firewall 309
Turn On a Firewall On a Mac 312
Run a Windows Defender Scan 313
Set Up Windows Defender to Run Automatically 316
Set Up Trusted and Restricted Web Sites 318
Change Privacy Settings in Internet Explorer 320
Change Privacy Settings in Firefox 322
Enable Content Advisor 323
Protect Your Wireless Network 326
Protect Yourself on the Go: Cell Phone Safety 328
Chapter 16: Knowing Your Rights and Making a Difference 331
It's Never the Victim's Fault 332
ID Theft Victims' Rights 333
Your Rights Regarding Spam 335
Your Internet Safety Bill of Rights 336
Demand More from Online Companies 340
Hold the Government Accountable for Your Privacy 342
What Law Enforcement and Government Agencies Must Do 344
Glossary 347
Index 357
See More
Linda Criddle is an internationally recognized Internet safety and technology expert and President of Lookbothways Inc., which develops online safety curriculum and software. Nancy C. Muir has written more than 40 books on technologyand is the Director of Content Development for Lookbothways. Learn more at www.ilookbothways.com.
See More