E-book
The End of Energy Obesity: Breaking Today's Energy Addiction for a Prosperous and Secure Tomorrow
ISBN: 978-0-470-50277-8
288 pages
June 2009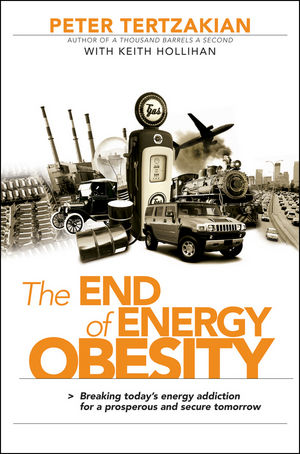 Praise For The End of Energy Obesity
"Peter Tertzakian has succeeded once again. He outlines a visionary approach to meeting the serious challenges of the world's projected population growth, continued economic growth, and increasing living standards. This book is a clarion call to policymakers, business leaders, and energy consumers everywhere."
—Guy Caruso, Senior Advisor, CSIS, Washington, D.C. (former Administrator, U.S. Energy Information Administration)
"Peter Tertzakian is one of the great energy thinkers of our time. In this compelling book, he examines the factors that will drive global energy demand and addresses the critical energy issue of our time: How can mankind bring its ever-growing demand for energy under control?"
—Hal Kvisle, CEO, TransCanada Corporation
"Anyone interested in understanding the forces that drive conflict and instability when it comes to energy should read Peter Tertzakian's important book, The End of Energy Obesity. Mr. Tertzakian makes it clear that the road ahead is difficult but not impossible. For those interested in how to attack the energy problem today for a better future, this is a must-read book."
—General John P. Abizaid (Ret.), former Combatant Commander, U.S. Central Command, and member of the SAFE Energy Security Leadership Council
"The End of Energy Obesity is a fresh look at a pressing problem . . . thought-provoking writing that's a must-read for those concerned about the way forward for the industrialized world."
—The Honourable Peter MacKay, Minister of Defence and Minister for the Atlantic Gateway, Government of Canada
"Peter Tertzakian's prose is fun to read, and the analogies are so apt. For anyone concerned about how we go on an energy diet, this book is a must-read."
—Matthew R. Simmons, Chairman, Simmons & Company International, author of Twilight in the Desert: The Coming Saudi Oil Shock and the World Economy
"This book explores the critical role networked IT solutions play in changing the way energy is used and delivered. The network truly becomes a platform for monitoring and managing energy consumption in a much more efficient way, and we expect the benefits to accelerate as the network becomes more pervasive. Tertzakian shows the reader how networked collaboration technologies such as TelePresence can enable powerful, face-to-face interactions while reducing our energy appetite and carbon footprint."
—John Chambers, Chairman and CEO, Cisco  
See More
Acknowledgments.
Introduction.
PART I THE MAKING OF OUR ENERGY APPETITE.
Chapter 1 After the Banquet.
Chapter 2 Whetting the Energy Appetite.
Chapter 3 The First Principle of Energy Consumption.
Chapter 4 The World's Factory.
PART II ELUSIVE SOLUTIONS.
Chapter 5 Breaking Our Energy Diet.
Chapter 6 Price and Value.
Chapter 7 Eating Our Efficiencies.
Chapter 8 Complex Carbons.
Chapter 9 The Maddening Allure of the First Principle.
PART III THINKING OUT OF THE BOX.
Chapter 10 The Asymmetry Principle.
Chapter 11 Beyond Nostalgia.
Chapter 12 Conservation 2.0.
Chapter 13 Dissolving Distance.
Chapter 14 A Low-Carb, Highly-Scalable Diet.
Chapter 15 The Energy Health Craze.
Epilogue: Leadership on the Commons.
Notes.
Glossary.
Bibliography.
About the Author.
Index.
See More
PETER TERTZAKIAN is Chief Energy Economist of ARC Financial Corporation and bestselling author of A Thousand Barrels a Second: The Coming Oil Break Point and the Challenges Facing an Energy Dependent World. Passionate about the history and direction of energy in society, Tertzakian blends three decades of experience in geophysics, economics, technology, and finance to analyze energy trends. Over the years, his prescient advice to corporate leaders, policymakers, and students has earned him many accolades for his work, including an asteroid in his name. Always questioning the consensus view, Tertzakian writes a weekly journal, is often quoted or seen in the media (including an appearance on The Daily Show with Jon Stewart), and is a sought-after speaker at events around the world.
See More