The Never Cold Call Again Online Playbook: The Definitive Guide to Internet Marketing Success
ISBN: 978-0-470-50392-8
224 pages
October 2009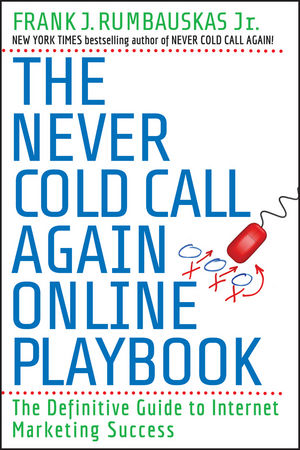 An all-in-one guide to online marketing from the New York Times bestselling author of Never Cold Call Again
In Never Cold Call Again, Frank Rumbauskas shows salespeople how to achieve sales greatness without using those dreaded old tactics like cold calling. Now, in The Never Cold Call Again Online Playbook, he gives small business owners, independent professionals, and entrepreneurs a complete, all-in-one guide to the best practices of effective online marketing.
The best marketers know all the secrets of using the Internet to fuel business growth. With The Never Cold Call Again Online Playbook, you'll have access to all the best proven Internet marketing wisdom, tactics, strategies, and tools. You'll learn how to develop a complete online marketing system that boosts sales and brings in customers galore.
A comprehensive toolkit for creating a complete, powerful, and effective online marketing program for your business
Written by online marketing guru Frank Rumbauskas, bestselling author of Never Cold Call Again and Selling Sucks
A revolutionary system for increasing sales without tired old selling tactics that no longer work anyway
How to explode your business with social media sites like Twitter and Facebook
For anyone who owns or operates a business and wants to increase their sales, profits, and visibility online, The Never Cold Call Again Online Playbook is the ultimate practical resource.
See More
Foreword (
Armando Montelongo
).
Preface.
Acknowledgments.
PART I: Online Marketing Today.
1. Everything You Know About Internet Marketing Is Probably Wrong.
2. Your Internet Marketing Goals.
3. The Future of Internet Marketing.
4. My System of Systems For Massive Online Success.
PART II: Building A Brand Online.
5. Your Online Identity: The Foundation of Internet Marketing Success.
6. Create Instant (and Verifiable) Expert Status.
7. Generate Instant (and Verifiable) Online Media Coverage.
8. Position Yourself for Ongoing Media Coverage and Credibility.
9. Offline Identity Builders to Boost Your Online Results.
PART III: Building Buzz Online.
10. What Is Buzz?
11. Your Online Persona Will Make or Break You.
12. Blogging to Create Buzz.
13. Podcasting to Create Buzz.
14. Vodcasting to Create Buzz.
15. Tweeting to Create Buzz and Build a Following.
16. Satire, Comedy, and Publicity Stunts to Stand Out and Attract Attention.
17. The Ultimate Buzz-Builder: Your Own Social Network.
PART IV: Generating Highly Target, High-Value Traffic.
18. A Brief Background on Traffic-Generation and Search Engines.
19. Your E-Mail List: Your Most Precious Online Asset.
20. Instant Traffic: Cost-Effective Pay-Per-Click Marketing.
21. Write Articles to Generate Traffic and Build Backlinks.
22. How to Build Traffic -- and Your List -- with Internet Forums.
23. The Hidden Value of Craigslist and Other Internet Classifieds Sites.
24. Explode Your List with Free Giveaways.
25. YouTube and Online Video: The New Ultimate Traffic Generator?
26. Affiliates: Your Own Dealer/Distributor Network.
27. Joint Ventures: The Ultimate (and Fastest) List-Builders.
28. Triple Your Results (or More) with Viral Tell-A-Friend Systems
29. Use Online Contests to Generate Massive Traffic Spikes.
30. Create Massive Profits in Minimal Time with Product Launches.
PART V: Turning Traffic Into Sales.
31. Home Page Structure: More Important Than You Think.
32. Writing Copy: Your Online Sales Presentation.
33. Your E-Mail Follow-Up System: Long-Term Profits on Autopilot.
34. Up-Sells, Cross-Sells, and Down-Sells: Instant 50 Percent Sales Increase.
35 Abandoned Shopping Carts: A Hidden Profit Center.
36. Online Conversion Testing to Explode Your Profits.
PART VI: Unlock Hidden Back-End Profits.
37. Back-End Profits: Internet Marketing's Biggest Prize.
38. Monetize Your List with Affiliate Promotions.
39. Use Your Online Identity to Generate Offline Income.
Afterword: The Possibilities Are Endless.
Appendix: A Primer on Integration Marketing (Mark Joyner).
Index.
See More
FRANK J. RUMBAUSKAS JR. is the New York Times bestselling author of and Selling Sucks. He is regularly quoted in mainstream media, including Entrepreneur, Investor's Business Daily, and Selling Power.
See More