Canning and Preserving For Dummies, 2nd Edition
ISBN: 978-0-470-50455-0
384 pages
September 2009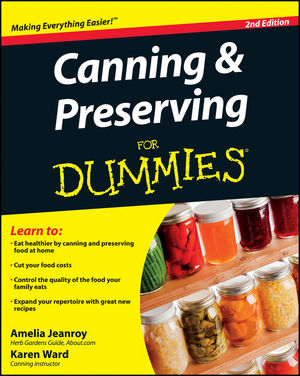 Everything you need to know to can and preserve your own food
With the cost of living continuing to rise, more and more people are saving money and eating healthier by canning and preserving food at home. This easy-to-follow guide is perfect for you if you want to learn how to can and preserve your own food, as well as if you're an experienced canner and preserver looking to expand your repertoire with the great new and updated recipes contained in this book.
Inside you'll find clear, hands-on instruction in the basic techniques for everything from freezing and pickling to drying and juicing. There's plenty of information on the latest equipment for creating and storing your own healthy foods. Plus, you'll see how you can cut your food costs while controlling the quality of the food your family eats.
Everything you need to know about freezing, canning, preserving, pickling, drying, juicing, and root cellaring
Explains the many great benefits of canning and preserving, including eating healthier and developing self-reliance
Features new recipes that include preparation, cooking, and processing times
Amy Jeanroy is the Herb Garden Guide for About.com and Karen Ward is a member of the International Association of Culinary Professionals
If you want to save money on your grocery bill, get back to basics, and eat healthier, Canning & Preserving For Dummies, 2nd Edition is your ideal resource!
See More
Introduction 1
Part I: Getting Started 7
Chapter 1: A Quick Overview of Everything You Need to Know about Canning and Preserving 9
Chapter 2: Gathering Your Canning and Preserving Gear 17
Chapter 3: On Your Mark, Get Set, Whoa! The Road to Safe Canning and Preserving 33
Part II: Water-bath Canning 43
Chapter 4: Come On In, the Water's Fine! Water-bath Canning 45
Chapter 5: Simply Fruit 57
Chapter 6: Sweet Spreads: Jams, Jellies, Marmalades, and More 77
Chapter 7: Condiments and Accompaniments: Chutneys, Relishes, and Sauces 91
Chapter 8: Pickle Me Timbers! 99
Part III: Pressure Canning 115
Chapter 9: Don't Blow Your Top: Pressure Canning 117
Chapter 10: Preserving the Harvest: Just Vegetables 133
Chapter 11: Don't Forget the Meats! 167
Chapter 12: Combining the Harvest: Soups, Sauces, and Beans 185
Part IV: Freezing 199
Chapter 13: Baby, It's Cold Inside! Freezing Food 201
Chapter 14: Meals and Snacks in a Snap: Freezing Prepared Foods 213
Chapter 15: Freezing Fruits, Vegetables, and Herbs 221
Part V: Drying and Storing 247
Chapter 16: Dry, Light, and Nutritious: Drying Food 249
Chapter 17: Snacking on the Run: Drying Fruit 259
Chapter 18: Drying Vegetables for Snacks and Storage 279
Chapter 19: Drying Herbs 301
Chapter 20: Root Cellars and Alternative Storage Spaces 315
Part VI: The Part of Tens 327
Chapter 21: Ten (Or So) Troubleshooting Tips for Your Home-Canned Creations 329
Chapter 22: Ten (Plus) Sources for Canning and Preserving Supplies and Equipment 335
Appendix: Metric Conversion Guide 339
Index 343
See More
Amelia Jeanroy is a syndicated columnist and the Herb Gardens Guide at About.com. An organic sustainable farmer, she has been canning and preserving foods for 20 years. Karen Ward is a life-long home canner, home economist, recipe developer, and cookbook author. She has been a featured guest on many television shows including QVC and HGTV's Smart Solutions.
See More