Schools for All Kinds of Minds: Boosting Student Success by Embracing Learning Variation
ISBN: 978-0-470-50515-1
288 pages
March 2010, Jossey-Bass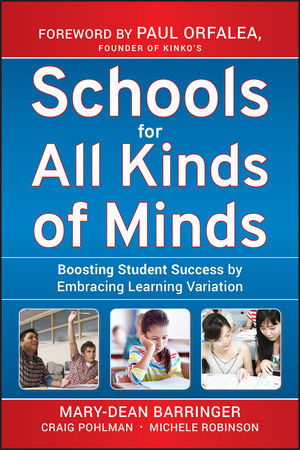 This book shows how schools can--and
must
--develop expertise in "learning variation" (understanding how different kinds of minds learn) and apply this knowledge to classroom instruction in order to address the chronic learning challenges and achievement gap faced by millions of students. Barringer shows how using what we know about learning variation with a focus on discovering learning
strengths
, not just deficits, can help schools create plans for success for those students who often find it elusive. The book specifically addresses how school leaders can incorporate this knowledge into instructional practice and school-level policy through various professional development strategies.
Schools for All Kinds of Minds:
Provides a readable synthesis of the latest research from neuroscience, cognitive science, and child and adolescent development as it relates to understanding learning and its many variations.
Links this information to strategies for understanding struggling learners and adapting school practices to accommodate a wider array of learning differences in a classroom.
Demonstrates how this understanding of learning variation can change the way teachers and others help students succeed in various academic and content areas and acquire necessary 21st century skills.
Includes discussion questions and facilitator guidelines for staff developers and teacher education programs; downloadable forms that accompany exercises from within the book; an action plan for schools to implement the ideas found in the book; and more.
See More
Foreword: America Needs all Kinds of Minds.
Acknowledgments.
About the Authors.
Introduction: An Enduring Dilemma.
1 Understanding Learning as the Core Business of Schools.
2 Bringing the Science of Learning into the Classroom.
3 Key Ingredients of Learning.
4 Digging Deeper: Knowing Students as Learners.
5 Building on Student Assets.
6 Looking Deeper: A Fresh Perspective on Behavior.
7 Boosting Writing Achievement Through the Science of Learning.
8 Getting Started: Creating Schools for All Kinds of Minds.
Appendix A: Glossary of Key Terms.
Appendix B: All Kinds of Minds Schools of Distinction.
Appendix C: The Effects of the Schools Attuned Program: A Snapshot of Research Results.
Appendix D: Programs from All Kinds of Minds.
Appendix E: All Kinds of Minds Web Site Resources.
Notes.
Index.
See More
Mary-Dean Barringer
is CEO of All Kinds of Minds, a nonprofit organization that translates the latest research from neuroscience and other disciplines on how children learn into a powerful framework for educators. She was a founding board member of the National Board for Professional Teaching Standards and then served as vice president of Outreach and Mobilization for that non-profit education organization from 1990 to 2000.
Craig Pohlman, Ph.D., is the director of Mind Matters at Southeast Psych, a learning assessment and consultation program in Charlotte, North Carolina. He is the author of Revealing Minds and How Can My Kid Succeed in School?, both from Jossey-Bass.
Michele Robinson has worked with All Kinds of Minds in various capacities—developing program curricula, training facilitators, supporting research, and translating the knowledge base. She has personally taught thousands of educators the All Kinds of Minds approach.
See More
Learn more about