Textbook
Learning the Language of Addiction Counseling, 3rd Edition
ISBN: 978-0-470-50523-6
512 pages
July 2010, ©2010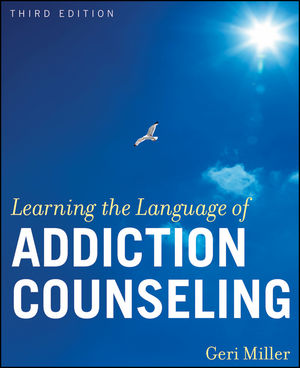 Comprehensive and current
Learning the Language of Addiction Counseling, Third Edition introduces students to the field of addiction counseling and helps them develop the knowledge, understanding, and skills needed to counsel people who are caught in the destructive cycle of addiction.
Drawing from her years of experience working in the addiction-counseling field, Geri Miller provides a balanced overview of the major theoretical underpinnings and clinical practices in the field, covering all of the essentials—from assessment and diagnosis of addiction to preparing for certification and licensure as an addiction professional.
Fully revised and expanded, the Third Edition offers a positive, practice-oriented counseling framework and features:
Revised chapters reflecting important changes in the field

New chapters on "Spirituality and Addiction Counseling" and "Pain and Substance Abuse"

New case studies, interactive exercises, and suggested reading and resources at the end of each chapter

"Personal Reflections" sections in each chapter illustrating the author's evolving views of addiction counseling

New online Instructor's Manual containing PowerPoint® slides, test bank questions, and syllabi
See More
Preface xi
Acknowledgments xv
CHAPTER 1
INTRODUCTION 1
Personal Reflections 1
Addiction Counseling Influences 2
Theories of Addiction 8
CHAPTER 2
THEORIES OF COUNSELING RELATED TO ADDICTION TREATMENT 19
Personal Reflections 19
Development of a Theoretical Framework for Addiction Counseling 19
Dangers in Developing a Theoretical Framework and Recommendations 21
General Counseling Theories 24
CHAPTER 3
ASSESSMENT AND DIAGNOSIS OF ADDICTION 37
Personal Reflections 37
Interviews 38
Behavioral Observations 45
Physiological Instruments 46
Psychometric Instruments 46
Diagnosis 55
Stages of Change 58
CHAPTER 4
ASSESSMENT, DIAGNOSIS, AND TREATMENT OF CO-OCCURRING DISORDERS 63
Personal Reflections 63
Historical Struggles Between the Fields 65
General Guidelines 66
Problems with Diagnosing 67
Type of Co-Occurring Diagnoses 69
Related Issues 79
Screening 85
Recognition of Problems in Different Settings 85
Treatment Modifications and General Guidelines 86
CHAPTER 5
THE TREATMENT PROCESS FOR ADDICTIONS 97
Personal Reflections 97
Crisis Intervention 97
Individual Therapy 103
Group Therapy 110
Family Therapy 122
Specific Approaches 129
CHAPTER 6
TREATMENT-RELATED ISSUES 145
Personal Reflections 145
Sexual Issues 146
HIV/AIDS 154
Intimate Partner Violence 162
CHAPTER 7
RELAPSE PREVENTION 183
Personal Reflections 183
Counselor Approaches 183
Relapse-Prevention Models 187
Counseling Techniques 193
Case Studies of Special Populations 200
Co-Occurring Disorders 203
CHAPTER 8
SELF-HELP GROUPS 209
Personal Reflections 209
Suggestions for Counselors 209
12-Step Groups 211
Women for Sobriety 219
16 Steps 221
Rational Recovery 223
Secular Organizations for Sobriety 225
Self-Management and Recovery Training (Smart Recovery1) 226
Matching Self-Help Groups to Meet Client Needs 228
Special Issues 234
Appendix Stories of Recovery 241
CHAPTER 9
CURRENT AND EVOLVING THERAPY APPROACHES AND TECHNIQUES 243
Personal Reflections 243
Positive Psychology 243
Client Resilience 246
Stages-of-Change Model 248
Motivational Interviewing 250
Brief Therapy 255
Evaluation of Effectiveness 267
CHAPTER 10
CULTURALLY SENSITIVE ADDICTION COUNSELING 273
Personal Reflections 273
Defining Multicultural 274
Social-Environmental Aspects 275
Breakdown of Communication 277
Multicultural Competence 277
Dialogue 278
General Counseling Suggestions 279
Assessment, Treatment, and Aftercare Issues 280
CHAPTER 11
INCORPORATING SPIRITUALITY INTO ADDICTION COUNSELING 329
Personal Reflections 329
Definition of Spirituality 329
The History of the Merger: Spirituality and Addiction Counseling 330
Bridges and Barriers 332
Influencing Factors 334
Assessment and Treatment 334
Counseling Resources and Techniques 336
Counselor Self-Care 339
Ethical Issues 342
CHAPTER 12
CHRONIC PAIN ASSESSMENT, TREATMENT, AND AFTERCARE 345
Personal Reflections 345
Definition of Pain 347
Issues of Living Sober with Chronic Pain 347
Assessment and Treatment 349
CHAPTER 13
PERSONAL AND PROFESSIONAL DEVELOPMENT OF THE COUNSELOR 359
Personal Reflections 359
Ethical Issues 359
Testifying in Court 368
Working with Difficult Others 372
Self-Care 377
Working with Addicts 383
CHAPTER 14
PREPARING FOR CERTIFICATION AND LICENSURE AS AN ADDICTION PROFESSIONAL 393
Personal Reflections 393
Self-Care on the Journey 395
Supervision 397
Credentialing 399
References 407
Author Index 447
Subject Index 457
See More
Geri Miller, PhD, Diplomate in Counseling Psychology, ABPP, is a Professor in the Department of Human Development and Psychological Counseling at Appalachian State University. Dr. Miller is a Licensed Clinical Addictions Specialist and a Substance Abuse Professional Practice Board-Certified Clinical Supervisor. She has been a Council for Accreditation of Counseling and Related Educational Programs (CACREP) Site Team Member since 1992. She is the author of two books and was awarded the 2009 Ella Stephens Barrett Award for excellence in professional leadership, the most coveted honor bestowed by the North Carolina Counseling Association.
See More
A new chapter on pain management. This is important because many addicted individuals struggle with physical pain that led to or resulted from their addiction.

A new chapter on incorporating spirituality in addiction counseling. Spirituality is of growing interest to many counselors and addicts and a possible recovery resource.

A new Instructor's Resource Package including Test Items, Power Points, and Activities.

Numerous case examples facilitate the integration of new evidence-based research into practice.

Extensive coverage of professional development issues including testifying in court, self-care, and ethics.
See More
Expansion of the section on harm reduction theory and the section on evidence-based practices thereby making the theoretical and practical application of the information more current.
Expansion and update of information on both broad and specific addiction assessment instruments, client placement criteria, specific suggestions on engaging clients (Stages of Change), explanation of addiction dynamics, and the impact of drug type and administration route on the addictive process.
Inclusion of a section on DWI assessment.
Expansion and update of information on the assessment and treatment of dual disorders as well as discussion of the types of dual disorders and inclusion of a mental status exam.
Update on current treatment-related issues especially expanding the section on HIV/AIDS (to include infectious diseases more extensively such as Hepatitis C) and including a section on Seeking Safety, an increasingly popular form of treatment for trauma survivors.
Update on current relapse prevention techniques, specific suggestions on retaining clients (Gorski model, Stages of Change, Motivational Interviewing).
See More
Buy Both and Save 25%!
Learning the Language of Addiction Counseling, 3rd Edition (US $67.50)
-and- Group Exercises for Addiction Counseling (US $26.00)
Total List Price: US $93.50
Discounted Price: US $70.12 (Save: US $23.38)
Cannot be combined with any other offers. Learn more.
Learn more about