Project Portfolio Management: A View from the Management Trenches
ISBN: 978-0-470-50536-6
Hardcover
256 pages
October 2009
US $90.00

Add to Cart
This price is valid for United States. Change location to view local pricing and availability.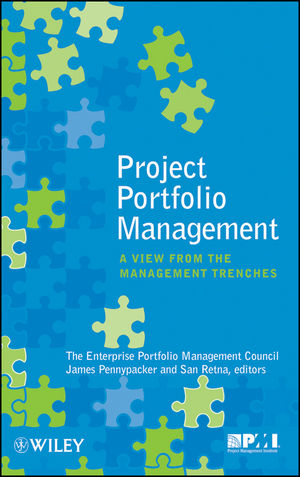 "Portfolio management is critically important, but often quickly dismissed as unnecessary 'strategy overhead'. Applied in the right ways, with the right level of discipline, it can be an extremely insightful lens through which to see untapped sources of business value. Credit to the authors for shedding much needed light on both the art and science of project portfolio management, both strategic and operational."
—
Matt Wagner
, Director, Strategy & Planning, Hewlett-Packard
"This is one of the most straightforward and easy to read books on Portfolio Management. It contains simple and relevant examples of how to organize and execute a PM process that will satisfy senior leadership's needs while streamlining the information and processes that are supported by the 'trenches'."
— Christine Cioffe, Vice President, Enterprise-wide Portfolio Management Merck & Co., Inc
"Project Management has been hailed as the foundation of modern business, but managing the organization's entire portfolio of projects carries this discipline to the next level. Based on a wealth of hard-won experience, this book offers no-nonsense guides that can turn your organization into an enterprise-wide system for managing R&D programs, product launches, IT systems, new facilities, mergers, PR programs, change efforts, and any of the myriad other activities that challenge leaders in all walks of life. Essential reading."
—William E. Halal, PhD Professor Emeritus of Science, Technology, & Innovation George Washington University, President, TechCast LLC
"'Project Portfolio Management' provides valuable guidance on how organizations can optimize the return from their investments in change - not least in balancing process with the equally important dimensions of governance and changed behaviors."
—John Suffolk, HM Goverrnment CIO
"In order to 'run IT as a business', it is imperative to have portfolio management in the center of your strategy. This book acknowledges its importance and provides practical guidance for success!"
—Zackarie Lemelle, Vice President, IT Corporate Systems, Johnson & Johnson
"Doing the right things" is just as important as "Doing things right". This book gives a practical guide on how to select the right projects (and those that we should abandon), ways to dynamically match the business demands to the capabilities of your organization, and finally ensure business results and benefits are harvested.  Many of the Lessons Learned ideas are valuable gems gained from years of experience by practitioners of Portfolio Management."
—David Ching, CIO, Safeway Inc.
"Thought-provoking contribution to a key strategic topic, anchored in the political realities of organizational behavior."
—Andrew Bragg, Chief Executive, Association for Project Management
"Provides framework to blend culture, strategies, processes and technologies in the right proportions for the highest returns."
—Mark C. Russell – CAO Grange Insurance
"This book helps illustrate the importance of a well defined process, for technology to deliver results." -
—Michael Fergang - CIO Grange Insurance