Handbook of Solution-Focused Brief Therapy
ISBN: 978-0-470-50550-2
384 pages
January 1991, Jossey-Bass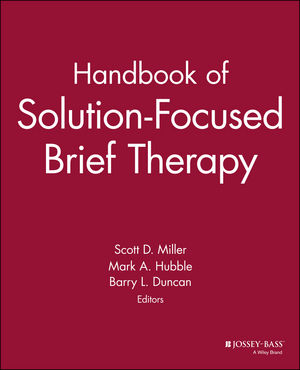 The definitive guide for succeeding in an era of managed care
This state-of-the-art resource—a compilation of works from the nation's leading practitioners—offers mental health practitioners the tools for applying solution-focused brief therapy (SFBT) techniques.
Filled with the most current research information, illustrative case examples, and practical suggestions, it uses a framework that integrates the solution-focused model with the problem-focused approach, and offers specific guidance for applying methods across treatment settings. Proven to be effective across economic, gAnder, and racial lines, this guide will lead to an increased number of therapeutic options for success in an era of managed care.
See More
Introduction 1
PART ONE: FOUNDATIONS OF SOLUTION-FOCUSED THERAPY
1. Rethinking Our Assumptions: Thinking Anew, in a Postmodern World 9
John L. Walter and Jane E. Peller
2. Solution-Focused Therapy and the Postmodern: A Critical Analysis 27
Barbara S. Held
3. Crafting of Consciousness Through Form: Solution-Focused Therapy as a Spiritual Path 44
Dvorah Simon
PART TWO: APPLICATIONS OF SOLUTION-FOCUSED THERAPY
4. Solution-Focused Domestic Violence Views: Bridges Toward a New Reality in Couples Therapy 65
Eve Lipchik and Anthony D. Kubicki
5. Solution-Focused Work in the Hospital: A Continuum of Care Model for Inpatient Psychiatric Treatment 99
Kay Vaugh, Bonnie Cox Young, Denise C. Webster, and Marshall R. Thomas
6. Solution-Focused Supervision: The Coaxing of Expertise 128
Frank N. Thomas
7. Solution-Focused Therapy with Mandated Clients: Cooperating and the Uncooperative 152
Susan Lee Tohn and Jordan A. Oshlag
8. Solution-Focused Therapy in the School 184
John J. Murphy
9. Solution-Focused Hospital Diversion: Treatment of First Choice 205
Judi Booker
10. Solution-Focused Grief Therapy 228
William R. Butler and Keith V. Powers
PART THREE: RESEARCH ON SOLUTION-FOCUSED THERAPY
11. A Clinician's Guide to Research on Solution-Focused Therapy 251
A. Jay McKeel
12. Outcome Research on Treatment Conducted at the Brief Family Therapy Center, 1992-1993 272
Peter DeJong and Larry E. Hopwood
13. Research on the Process of Solution-Focused Therapy 229
Mark Beyebach, Alberto Rodriguez Morejon, David L. Palenzuela, and Jose Luis Rodriquez-Arias
14. What Works in Solution-Focused Therapy: A Qualitative Analysis of Client and Therapist Perceptions 225
Linda Metcalf, Frank N. Thomas, Barry L. Duncan, Scott D. Miller, na Mark A. Hubble
The Editors 351
The Contributors 353
Name Index 359
Subject Index 365
See More
SCOTT D. MILLER
is director of the Brief Therapy Training Consortium and vice president of Problems to Solutions, Inc.
MARK HUBBLE is director of Brief Therapy Clinic Counseling and Testing Center at the University of Missouri, Kansas City.
BARRY L. DUNCAN is in private practice in Port St. Lucie, Florida.
See More