Textbook
The Visual Food Lover's Guide: Includes essential information on how to buy, prepare and store over 1,000 types of food
ISBN: 978-0-470-50559-5
616 pages
August 2009, ©2009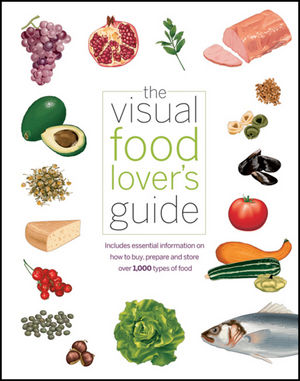 This practical, comprehensive guide, including more than 300 entries and 600 color illustrations, will be your guide to anything you'd like to cook with.
 Each entry includes information on pairing, buying, storing, and cooking ingredients, as well as nutritional information.

Over 600 color illustrations to help identify food, and also to show different varieties.

Chapters include Vegetables, Legumes, Nuts and Grains, Mushrooms, Fish, Crustaceans, Mollusks, Meat, Poultry, Spices, and Dairy Products.

Entries cover foods as common as chicken and as exotic as agar-agar.

Helpful how-to photos of basic techniques demystify preparation and serving steps, such as how to peel and cut a pineapple; cleaning crab; and making homemade pasta.

Convenient small size is handy enough to carry to the market.
See More
VEGETABLES - INTRODUCTION.
Bulb vegetables.
Chive, scallion, leek, shallot, garlic, onion, water chestnut.
Root vegetables.
Beet, turnip, parsnip, carrot, celeriac, black radish, radish, daikon, rutabaga, malanga, salsify, burdock.
Fruit vegetables.
Eggplant, avocado, bell pepper, olive, cucumber, winter melon, bitter melon, okra, tomato, tomatillo, squash, dried squash seeds, spaghetti squash, chayote.
Leaf vegetables.
Spinach, sorrel, nettle, dandelion, purslane, lamb's lettuce, arugula, cress, radicchio, chicory, endive, lettuce, violet, nasturtium, cabbage, sea kale, collards, kale, salad savoy, Brussels sprout, Chinese cabbage.
Stem vegetables.
Asparagus, bamboo shoot, cardoon, chard, fennel, fiddlehead, kohlrabi, celery.
Tuber vegetables.
Cassava, potato, taro, yam, jicama, sweet potato, Jerusalem artichoke, Chinese artichoke.
Flower vegetables.
Cauliflower, broccoli, broccoli rabe, artichoke.
LEGUMES - INTRODUCTION.
Bean, lima bean, mung bean, urad, adzuki bean, runner bean, lupine bean, lentil, dolichos bean, broad bean, pea, chickpea, peanut, alfalfa, soybean, soy milk, tofu, okara, tempeh, textured vegetable proteins.
FRUITS - INTRODUCTION.
Dried fruits, candied fruits, rhubarb.
Berries.
Currant, blueberry/bilberry, blackberry, raisin, grape, strawberry, raspberry, cranberry, winter cherry.
Stone fruits.
Plum, prune, nectarine, peach, date, cherry, apricot.
Pome fruits.
Apple, pear, quince, loquat.
Citrus fruits.
Pomelo, grapefruit, lemon, orange, mandarin, kumquat, lime, citron, bergamot .
Tropical fruits.
Banana, plantain, durian, jaboticaba, carambola, cherimoya, jackfruit, tamarillo, rambutan, longan, pepino, persimmon, lychee, papaya, pomegranate, kiwifruit, feijoa, jujube, passion fruit, guava, Asian pear, mango, mangosteen, horned melon, sapodilla, prickly pear, fig, pineapple .
Melons.
Melon, watermelon.
NUTS AND SEEDS - INTRODUCTION.
Walnut, pecan, cashew, kola nut, coconut, macadamia nut, Brazil nut, pine nut, gingko nut, chestnut, beechnut, hazelnut, sesame, almond, sunflower seed, pistachio.
Seaweeds - Introduction.
Arame, wakame, kombu, agar-agar, hijiki, kelp, sea lettuce, dulse, Irish moss, spirulina, nori, glasswort.
MUSHROOMS - INTRODUCTION.
Cultivated mushroom, enoki mushroom, morel, pleurotus mushroom, wood ear mushroom, chanterelle, bolete, shiitake, truffle.
CEREALS AND GRAINS- INTRODUCTION, FOOD COMPLEMENTARITY THEORY.
Wheat, seitan, buckwheat, oats, barley, millet, rice, wild rice, quinoa, rye, amaranth, triticale, corn, popping corn, bread, flour, pastas, Asian noodles.
FISH - INTRODUCTION.
Kamaboko.
Freshwater fish.
Eel, bass, pike, carp, pike-perch, perch, trout.
Saltwater Fish.
Mullet, bluefish, shad, monkfish, sea bass, sturgeon, caviar, sardine, anchovy, herring, mackerel, gurnard, sea bream, conger, swordfish, goatfish, redfish, salmon, cod, smelt, lamprey, John Dory, shark, tuna, skate.
Flat fish.
Halibut, sole, turbot, plaice.
CRUSTACEANS - INTRODUCTION.
Shrimp, crab, scampi, spiny lobster, crayfish, lobster.
MOLLUSKS - INTRODUCTION.
Abalone, cockle, scallop, clam, mussel, oyster, squid, octopus, cuttlefish, whelk, periwinkle, snail, frog, sea urchin.
HERBS, SPICES AND CONDIMENTS - INTRODUCTION.
Dill, anise, bay laurel, tarragon, chervil, rosemary, marjoram/oregano, basil, sage, thyme, mint, parsley, clove, allspice, cardamom, nutmeg, savory, lemon balm, lemon grass, caper, coriander/cilantro, cumin, saffron, caraway, juniper berry, borage, angelica, ginger, curry, turmeric, cinnamon, mustard, pepper, fenugreek, chili pepper, horseradish, poppy, tamarind, vanilla, miso, soy sauce, vinegar, salt.
MEATS - INTRODUCTION.
Beef, veal, pork, lamb, venison, rabbit, ground meat.
VARIETY MEATS - INTRODUCTION.
Heart, liver, tongue, sweetbread, brains, kidneys, tripe.
DELICATESSEN MEATS - INTRODUCTION.
Bacon, ham, sausage, andouille, rillettes, foie gras, blood sausage.
POULTRY - INTRODUCTION.
Turkey, goose, chicken, hen, capon, guinea fowl, pigeon, quail, pheasant, duck, egg.
DAIRY PRODUCTS - INTRODUCTION.
Milk, goat's milk, buttermilk, sour cream, butter, cream, yogurt, ice cream, cheese.
SUGARS, COCOA AND CAROB - INTRODUCTION.
Sugar, sugar substitutes, honey, maple syrup, carob, cocoa.
FATS AND OILS - INTRODUCTION.
Margarine, fats, oil.
COOKING INGREDIENTS - INTRODUCTION.
Arrowroot, baking powder, cream of tartar, baking soda, yeast.
COFFEE, TEA AND HERBAL TEAS - INTRODUCTION.
Tea, herbal tea, coffee.
Glossary.
Index.
See More
Learn more about