E-book
iPhoto '09 For Dummies
ISBN: 978-0-470-50651-6
288 pages
March 2009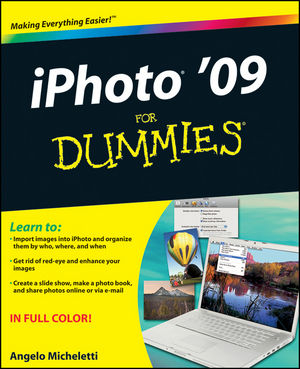 iPhoto '09 is packed with cool photo-editing features, and
iPhoto '09 For Dummies
is your fast track to using every one. You'll learn to clean up and enhance your photos, print them or upload them to a sharing site online, create cool projects, protect and secure your pictures, and make photography more fun than ever. This full-color guide shows you how, and even helps you shoot future photos with an eye to iPhoto's capabilities.
There's an easy exercise to get you started and plenty of beautiful full-color photos to show you the results you can achieve. You'll learn your way around the interface, what's new, and how to set preferences.
Discover how to create a well-organized, maintainable archive so you can find photos
Import and export photos from various sources, including card readers
Manage any import problems
Organize your collection using facial recognition and GPS technology
Crop, rotate, and enhance your images
Use a histogram and improve exposure, contrast, highlights, shadows, saturation, and more
Set up a MobileMe gallery, send photos to Facebook or Flickr, make prints, and burn CDs
Get tips for successfully e-mailing your pictures and for printing your photos at home
Create photo greeting cards, calendars, or a travel book with maps that show where you took your pictures
iPhoto '09 For Dummies even tells about cool add-ons and ideas for iPhoto. Learn to make all your photos the best they can be.
See More
Introduction.
Part I: Getting Ready to Roll with iPhoto '09.
Chapter 1: Presenting the iPhoto '09 Interface.
Chapter 2: Putting iPhoto through Its Paces.
Chapter 3: Importing Your Images into iPhoto.
Part II: Manipulating Photo Organization.
Chapter 4: Events and Faces — Grouping Your Photos.
Chapter 5: Combining Photos into Albums.
Chapter 6: Searching for Your Photos.
Part III: Making Your Photos Look Even Better.
Chapter 7: Exploring the iPhoto Editor.
Chapter 8: Making Basic Photo Adjustments.
Chapter 9: Using the Histogram for Advanced Editing.
Chapter 10: Finalizing Advanced Editing with the Adjust Tool.
Part IV: Showing and Sharing Your Photos.
Chapter 11: Sharing Your Photos Electronically.
Chapter 12: Printing Your Photos.
Chapter 13: Showcasing Your Photos.
Part V: The Part of Tens.
Chapter 14: Ten Terrifi c Web Resources and Software Add-ons for iPhoto.
Chapter 15: Ten Helpful Hints, Tips, and Shortcuts.
Index.
See More
Angelo Micheletti is a professional photographer as well as an Apple developer who created the first encryption program for Macintosh. He specializes in landscape photography, and his work can be seen at www.scenesfromthewest.com.
See More