E-book
California Wine For Dummies
ISBN: 978-0-470-50654-7
288 pages
March 2009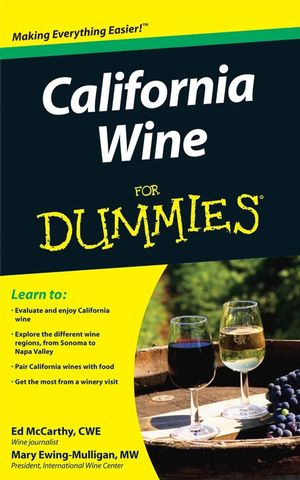 Discover the nuances of California wines and increase your drinking pleasure
Want to be a California wine connoisseur? This friendly guide gives you the knowledge you need to appreciate these fine wines, showing you how to taste them, select a good bottle, pair wine with food, and much more. You'll see why certain wine regions are renowned and how to further enrich your wine-drinking experience.
California wine 101 — understand the range of California wines, what makes them unique, and what a varietal wine is

Review the regions — explore the major wine regions of California and what makes each one special, from the soil to the climate

Open the bottle — become fluent in the Big Six: Chardonnay, Sauvignon Blanc, Cabernet Sauvignon, Merlot, Pinot Noir, and Zinfandel

Go beyond the basics — appreciate Pinot Grigio, Viognier, Syrah, sparkling wines, and more

Round out your wine experience — pair and share wines, learn about the proper glassware and serving temperatures, and prepare for a winery visit
Open the book and find:
An overview of California wine today

Wine recommendations for all budgets

Explanations of wine label language

A map of wine regions

Tips for aging and collecting California wines

Winery tasting etiquette

The ins and outs of recent vintages

Top wine country travel destinations
See More
Introduction  1

Part I: The Big Picture of California Wine  9

Chapter 1: Introducing California Wines  11

Chapter 2: What's in the Bottle  25

Chapter 3: Decoding the Label  41

Chapter 4: California's Major Wine Regions  57

Part II: The Headliners  85

Chapter 5: Chardonnay and Sauvignon Blanc  87

Chapter 6: Cabernet Sauvignon, Merlot, and Their Blends  111

Chapter 7: Pinot Noir  135

Chapter 8: Zinfandel  159

Part III: More Reds, Whites, Pinks, and Bubblies  171

Chapter 9: Pinot Grigio, Rhône-Style Whites, and Other California Whites  173

Chapter 10: Syrah, Petite Sirah, Other Varietal Reds, and Red Blends  185

Chapter 11: Bubbly, Rosé, and Dessert Wines  207

Part IV: Enjoying California Wines  217

Chapter 12: Pairing and Sharing California Wines  219

Chapter 13: Making a Winery Pilgrimage  231

Part V: The Part of Tens  241

Chapter 14: Answers to Ten Common Questions about California Wine  243

Chapter 15: Ten Top Travel Destinations and Attractions  249


Index  257
See More
Ed McCarthy, CWE, is a wine columnist for WineReviewOnline.com and for Beverage Media. Mary Ewing-Mulligan, MW, is President of the International Wine Center in New York. Together, they are the authors of many For Dummies wine guides, including the perennial bestseller Wine For Dummies.
See More