E-book
The Veterans and Active Duty Military Psychotherapy Treatment Planner
ISBN: 978-0-470-50671-4
360 pages
July 2009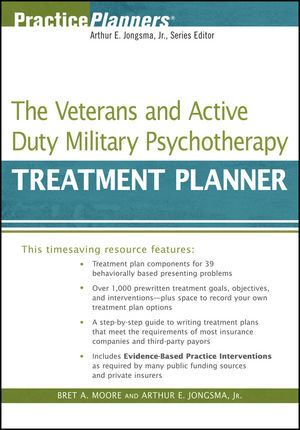 The Veterans and Active Duty Military Psychotherapy Treatment Planner provides all the elements necessary to quickly and easily develop formal treatment plans that satisfy the demands of HMOs, managed care companies, third-party payors, and state and federal agencies.
Features empirically supported, evidence-based treatment interventions

Organized around 39 main presenting problems in treating veterans and active duty military personnel, including substance abuse, adjustment to killing, anger management and domestic violence, pre-deployment stress, survivors' guilt, and combat and operational stress reaction

Over 1,000 prewritten treatment goals, objectives, and interventions—plus space to record your own treatment plan options

Easy-to-use reference format helps locate treatment plan components by behavioral problem

Designed to correspond with The Veterans and Active Duty Military Psychotherapy Progress Notes Planner

Includes a sample treatment plan that conforms to the requirements of most third-party payors and accrediting agencies including CARF, The Joint Commission (TJC), COA, and the NCQA
See More
Practice Planners Series Preface x
Acknowledgments xii
Introduction 1
Sample Treatment Plan 8
Adjustment to Killing 12
Adjustment to the Military Culture 19
Amputation, Loss of Mobility, Disfigurement 25
Anger Management and Domestic Violence 32
Antisocial Behavior in the Military 41
Anxiety 48
Attention and Concentration Deficits 57
Bereavement Due to the Loss of a Comrade 64
Borderline Personality 71
Brief Reactive Psychotic Episode 80
Chronic Pain after Injury 86
Combat and Operational Stress Reaction 92
Conflict with Comrades 99
Depression 106
Diversity Acceptance 114
Financial Difficulties 119
Homesickness/Loneliness 126
Insomnia 133
Mild Traumatic Brain Injury 139
Nightmares 146
Opioid Dependence 152
Panic/Agoraphobia 163
Parenting Problems Related to Deployment 172
Performance-Enhancing Supplement Use 178
Phobia 184
Physiological Stress Response–Acute 193
Post-Deployment Reintegration Problems 199
Posttraumatic Stress Disorder (PTSD) 206
Pre-Deployment Stress 216
Separation and Divorce 223
Sexual Assault by Another Service Member 232
Shift Work Sleep Disorder 238
Social Discomfort 244
Spiritual and Religious Issues 251
Substance Abuse/Dependence 257
Suicidal Ideation 268
Survivor's Guilt 274
Tobacco Use 280
Appendix A: Bibliotherapy Suggestions 287
Appendix B: Professional References for Evidence-based Chapters 304
Appendix C: Index of DSM-IV-TR™ Codes Associated with Presenting Problems 317
See More
Arthur E. Jongsma, Jr., PhD, is the Series Editor for the bestselling PracticePlanners®. Since 1971, he has provided professional mental health services to both inpatient and outpatient clients. He was the founder and director of Psychological Consultants, a group private practice in Grand Rapids, Michigan, for twenty-five years.?He is the author or coauthor of over forty books and conducts training workshops for mental health professionals around the world.
Bret A. Moore, PsyD, ABPP, is a clinical psychologist with the Indian Health Services, Fort Peck, Montana. In 2008, he?left?Active Duty?service in the U.S. Army where he served as a captain and a clinical psychologist with the 85th Combat Stress Control (CSC) unit based in Fort Hood, Texas. He has extensive experience treating veterans, including two tours of duty in Iraq as an Officer in Charge of Preventive Services and Officer in Charge of Clinical Operations. He is coeditor of Living and Surviving in Harm's Way: A Psychological Treatment Handbook for Pre- and Post-Deployment of Military Personnel.
See More