Windows 7 Secrets
ISBN: 978-0-470-50841-1
1080 pages
September 2009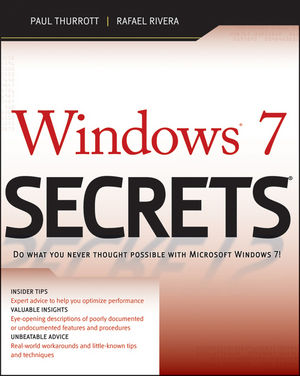 Tips, tricks, treats, and secrets revealed on the latest operating system from Microsoft: Windows 7
You already know the ups and downs of Windows Vista-now it's time to learn the ins and outs of Windows 7! Internationally recognized Windows experts, Microsoft insiders, and authors Paul Thurrott and Rafael Rivera cut through the hype to pull away the curtain and reveal useful information not found anywhere else. Regardless of your level of knowledge, you'll discover little-known facts on how things work, what's new and different, and how you can modify Windows 7 to meet your own specific needs.
A witty, conversational tone tells you what you need to know to go from Windows user to Windows expert and doesn't waste time with basic computer topics while point-by-point comparisons demonstrate the difference between Windows 7 features and functionality to those in Windows XP and Vista.
Windows 7 is the exciting update to Microsoft's operating system
Authors are internationally known Windows experts and Microsoft insiders
Exposes tips, tricks, and secrets on the new features and functionality of Windows 7
Reveals best practices for customizing the system to work for you
Investigates the differences between Windows 7 and previous versions of Windows
No need to whisper! Window 7 Secrets is the ultimate insider's guide to Microsoft's most exciting Windows version in years.
See More
Read This First.
Part I: Surviving Setup.
Chapter 1: Selecting the Right Windows 7 Edition.
Chapter 2: Installing or Upgrading to Windows 7.

Chapter 3: Hardware and Software Compatibility.
Part II: The New and Improved Windows 7 User Experience.
Chapter 4: What's New in the Windows 7 User Experience.
Chapter 5:Where's My Stuff? Finding and Organizing Files.
Chapter 6: Personalizing and Configuring Windows 7.
Part III: Security and Networking.
Chapter 7: Windows 7 Security Features.
Chapter 8: Users, Accounts, and UAC.
Chapter 9: Networking and HomeGroup Sharing.
Chapter 10: Complete Your Home Network with Windows Home Server.
Part IV: Digital Media and Entertainment.
Chapter 11: Digital Music and Audio.
Chapter 12: Organizing, Fixing, and Sharing Digital Photos.
Chapter 13: Digital Videos and DVD Movies.
Chapter 14: Microsoft Zune: A Digital Media Alternative.
Chapter 15: Digital Media in the Living Room.
Chapter 16: Having Fun: Games and Windows 7.
Part V: Mobility.
Chapter 17: Seven to Go: Windows 7 Mobility Features.
Chapter 18: Using Tablet PCs and Ultra-Mobile PCs.
Chapter 19: Windows in Your Pocket—Using a Windows Mobile Smartphone.
Part VI: Windows 7 Online.
Chapter 20: Browsing the Web.
Chapter 21: Managing E‑mail and Contacts.
Chapter 22: Managing Your Schedule.

Chapter 23: Your Life in Sync—Windows 7 and Live Services.
Part VII: Windows 7 Power User.

Chapter 24: Keeping Your Data Safe: File and PC Backup.
Chapter 25: Troubleshooting and Recovering from Disaster.
Chapter 26: IT Pro: Windows 7 at Work.
Index.
See More
The author of over 20 books,
Paul Thurrott
is a technology analyst for Windows IT Pro and the majordomo of the SuperSite for Windows (www.winsupersite.com). He writes a weekly editorial for Windows IT Pro UPDATE (www.windowsitpro.com/email), a daily Windows news and information e-mail newsletter called "WinInfo Daily News" (www.wininformant.com), and a monthly column called "Need to Know" in
Windows IT Pro Magazine
. He also blogs daily via the SuperSite Blog (community.winsupersite.com/blogs/paul), posts regularly on Twitter (www.twitter.com/thurrott), and appears weekly in the highly rated and hugely popular Windows Weekly podcast with Leo Laporte (www.twit.tv/ww).
Rafael Rivera is a software developer for a VAR 500 company, Telos Corporation, where he works on mission critical systems. He is a Certified Reverse Engineering Analyst (CREA) and takes Windows apart on his blog Within Windows (www.withinwindows.com). He also regularly "tweets" (www.twitter.com/withinrafael). Rafael was born on the same day as Windows 1.0—November 20, 1985—which many believe is no coincidence.
See More
Learn more about