Pastels For Dummies
ISBN: 978-0-470-50842-8
320 pages
February 2010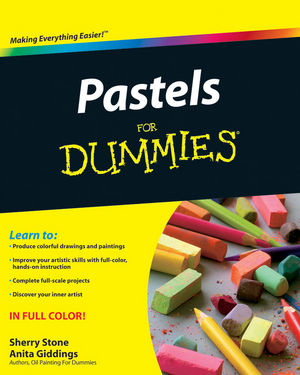 The latest tips and techniques for working with pastels - in full color
Pastels offer bright colors, a great level of portability, and no drying time - plus they're relatively inexpensive and can be used to draw and paint on almost any surface. Pastels For Dummies covers the many aspects of this exciting medium, from the fundamentals of choosing the right materials to step-by-step projects, including landscapes, abstracts, and portraits. Inside you'll find hands-on, easy-to-follow exercises and attractive full-color artwork.
Presents drawing, painting, and shading techniques and styles in an easy-to-understand format
Accessible to artists of all levels
Discover your inner artist with Pastels For Dummies and make your artwork come alive!
See More
Introduction.
Part I: Getting Started.
Chapter 1: The Lowdown on Pastel Basics.
Chapter 2: Getting to Know Your Pastels.
Chapter 3: Assembling Your Materials.
Chapter 4: Preparing to Work.
Part II: The Lowdown on Beginning Techniques.
Chapter 5: Building Basic Drawing Skills.
Chapter 6: Diving Into the Drawing Process.
Chapter 7: Picking Papers for Pastels.
Chapter 8: Exploring What You Can Do with Pastels.
Chapter 9: Making Your Mark.
Chapter 10: Making Your Work Look Real with Shadows and Solid Forms.
Chapter 11: Pastels, Color, and the Big Picture.
Chapter 12: Starting with Still Life.
Part III: Heading to the Next Level: Intermediate Techniques.
Chapter 13: Capturing Shiny or Textured Surfaces.
Chapter 14: Finding Your Artistic Voice.
Chapter 15: Trying Abstraction.
Part IV: Drawing Places and People.
Chapter 16: Going the Scenic Route: Sketching the Landscape.
Chapter 17: Sketching Exteriors and Interiors.
Chapter 18: Portraits: Capturing Realistic Head Shots.
Chapter 19: Adding People to the Picture.
Part V: The Part of Tens.
Chapter 20: Ten Great Subjects for Pastel.
Chapter 21: Ten (or So) Ways to Protect and Store Your Art.
See More
Sherry Stone
is a senior lecturer in foundation studies at IU Herron School of Art and Design.
Anita Giddings is a senior lecturer of fine arts at the IU Herron School of Art and Design. Together, Sherry and Anita are the authors of Oil Painting For Dummies.
See More