Textbook
Math for the Professional Kitchen
ISBN: 978-0-470-50896-1
320 pages
July 2013, ©2011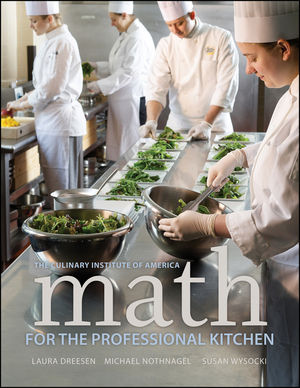 Essential math concepts for professional chefs and culinary students
Ideal for students and working professionals, Math for the Professional Kitchen explains all the essential mathematical skills needed to run a successful, profitable operation. From scaling recipes and converting units of measure to costing ingredients and setting menu prices, this book provides a thorough understanding of the crucial math concepts used in the restaurant and foodservice industry.
Written by three veteran math instructors from The Culinary Institute of America, the book utilizes a teaching methodology based on daily in-classroom practice. The entirety of the standard culinary math curriculum is covered, including conversions, determining yields, purchasing, portioning, and more.
•    Vital mathematical concepts are reinforced with easy-to-understand examples and review questions
•    The book is accompanied by instructor support materials including an Instructor's Manual, a Respondus test bank, and PowerPoint lecture notes
•    This is a thorough, comprehensive main text for culinary students as well as a great kitchen reference for working professionals
A good chef needs a firm grasp of basic math skills in order to cook well and achieve financial success, and that makes Math for the Professional Kitchen the ultimate math resource for every kitchen and every culinary classroom.

See More
Acknowledgments.
Foreword.
Chapter 1: Units of Measure and Unit Conversions.
Chapter 2: Recipe Scaling.
Chapter 3: Yield Percent.
Chapter 4: Purchasing and Portioning.
Chapter 5: Recipe Costing.
Chapter 6: Kitchen Ratios
Appendix I: Additional Information on Units of Measurement.
Appendix II: Volume Unit Equivalent Visual Memorization Aids.
Appendix III: Changing Between Fractions, Decimals, and Percents.
Appendix IV: Problem Solving with the Bridge.
Answers to Practice Problems.
Glossary of Terms.
References.
See More
Susan Wysocki (left) has had a career as a banker, a chef, and a college professor. She has been teaching in the business management department at The Culinary Institute of America since 1999. In addition, she is the owner and operator of Babycakes Café in Poughkeepsie, New York, where she lives with her two sons, Alex and Oliver.
Michael Nothnagel (center) has taught mathematics at the high school, community college, and university levels for the past 14 years. He has been a faculty member at The Culinary Institute of America since 2006. He also constructs crossword puzzles for major newspapers and other venues.
Laura Dreesen (right) has been with The Culinary Institute of America for 15 years. During that time, she has taught mathematics, cost control, introduction to computers, and computers in the food business and is coauthor of the college's personal finance course. She is an avid gardener and a foodie through and through.
See More
Instructors Resources
Request a print evaluation copy
Contact us

Contact your Wiley Representative
Find Your Rep

See More
See Less
Learn more about