Handbook of Digital Imaging
ISBN: 978-0-470-51059-9
1824 pages
February 2015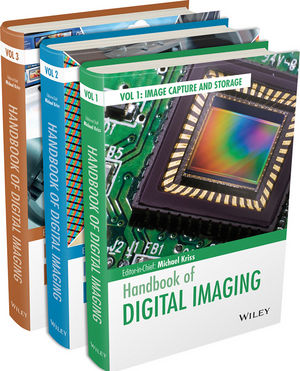 A comprehensive and practical analysis and overview of the imaging chain through acquisition, processing and display
The Handbook of Digital Imaging provides a coherent overview of the imaging science amalgam, focusing on the capture, storage and display of images. The volumes are arranged thematically to provide a seamless analysis of the imaging chain from source (image acquisition) to destination (image print/display). The coverage is planned to have a very practical orientation to provide a comprehensive source of information for practicing engineers designing and developing modern digital imaging systems. The content will be drawn from all aspects of digital imaging including optics, sensors, quality, control, colour encoding and decoding, compression, projection and display.
Contains approximately 50 highly illustrated articles printed in full colour throughout

Over 50 Contributors from Europe, US and Asia from academia and industry

The 3 volumes are organized thematically for enhanced usability:
Volume 1: Image Capture and Storage;
Volume 2: Image Display and Reproduction, Hardcopy Technology, Halftoning and Physical Evaluation,
Models for Halftone Reproduction;
Volume 3: Imaging System Applications, Media Imaging, Remote Imaging, Medical and Forensic Imaging


3 Volumes
See More
Volume 1: Image Capture and Storage
List of Contributors xxxv
Preface xxxix
Abbreviations and Acronyms xli
Part I IMAGE CAPTURE AND STORAGE 1
1 Digital Versus Analog Imaging 3
Michael Kriss
2 Optics for Digital Imaging 31
Peter B. Catrysse
3 Solid-State Image Sensors 85
4 Digital Imaging: An Introduction to Image Processing 161
Michael Kriss
5 Color Reproduction for Digital Cameras 219
Michael Kriss
6 Image Compression and File Formats 287
Michael Kriss
7 Image Quality Concepts 325
Peter D. Burns
8 Image Systems Simulation 373
Joyce E. Farrell and Brian A. Wandell
9 Multispectral Imaging 401
Yoichi Miyake and Vladimir A. Bochko
10 Understanding Glare and How it Limits Scene Reproduction 433
Alessandro Rizzi and John J. McCann
Volume 2: Image Display and Reproduction
List of Contributors xxxv
Preface xxxix
Abbreviations and Acronyms xli
Part II IMAGE DISPLAY AND PROJECTION 459
11 Liquid Crystal Display (LCD) 461
Claire Gu and Pochi Yeh
12 Plasma Display Panel (PDP) 505
Shigeo Mikoshiba
13 Liquid Crystal on Silicon (LCOS) 557
Cheng-Huan Chen
14 Introduction to Organic Light-Emitting Diode (OLED) 577
Jun Liu, Chin-Ti Chen and Chin H. Chen
15 Field Emission Displays (FEDs) and Surface-Conduction Electron-Emitter Displays (SEDs) 627
Matthew T. Cole, Masayuki Nakamoto and William I. Milne
16 Thick Film AC Electroluminescence 655
Christopher J. Winscom, Robert Withnall and Jack Silver
17 Touch Displays 673
Geoff Walker
18 Digital Micromirror Device and Digital Light Processing 739
Rajeev Ramanath
Part III HARDCOPY TECHNOLOGY 757
19 Electrophotography 759
Marc Cousoulis
20 Toner Technology and Fusing Concepts 811
Dinesh Tyagi
21 Inkjet Print Engines 863
Ronald A. Askeland
22 Ink-Jet Ink Technologies 895
John L. Stoffel
Part IV HALFTONING AND PHYSICAL EVALUATION 919
23 Basics of Tone Reproduction 921
Sasan Gooran and Li Yang
24 Digital Halftones 943
David Vanderhaeghe and Victor Ostromoukhov
25 Physical Evaluation of the Quality of Color Halftone 983
Li Yang
Part V MODELS FOR HALFTONE TONE REPRODUCTION 1019
26 Fundamentals of Optics and Radiometry for Color Reproduction 1021
Mathieu Hébert, Roger D. Hersch and Patrick Emmel
27 Base Models for Color Halftone Reproduction 1079
Roger D. Hersch and Mathieu Hébert
28 The Point Spread Function and Optical Dot Gain 1133
Geoffrey L. Rogers
29 The Probability Model for Color Tone Reproduction 1165
Li Yang
30 Computer Models for Digital Imaging 1199
Patrick Jenny, Miloš Šormaz and Safer Mourad
31 Two-Flux and Multiflux Matrix Models for Colored Surfaces 1233
Mathieu Hébert and Patrick Emmel
Volume 3: Imaging System Applications
List of Contributors xxxv
Preface xxxix
Abbreviations and Acronyms xli
Part VI MEDIA IMAGING 1279
32 Single-Sensor Imaging Devices: An Overview 1281
Sebastiano Battiato
33 Digital Television 1311
Stefan Mozar, Pan Feng and Rongshan Yu
34 Blu-Ray Versus Internet Movies 1341
Denny Breitenfeld
35 TV Display Technology and Video Processing 1353
E.B. Bellers and G. de Haan
36 Introduction to Digital Cinematography 1395
Matthew J. Siegel
37 Free-Viewpoint 3DTV: System Architecture, Rendering Techniques, and Perceptual Improvements 1441
Luat Do, Svitlana Zinger and Peter H.N. de With
38 Experiences in Using Semantic Technologies for Providing Added-Value Services in Digital TV 1477
Ana Fernández-Vilas, Rebeca P. Díaz-Redondo, José J. Pazos-Arias, Yolanda Blanco-Fernández and Martín López-Nores
39 Physical Content Distribution Versus Delivery from the Cloud 1507
Thomas M. Coughlin
Part VII REMOTE IMAGING 1529
40 Digital Imaging for Planetary Exploration 1531
Shouleh Nikzad, April D. Jewell, Alexander G. Carver, Michael E. Hoenk, Justin N. Maki and L. Doug Bell
41 IR Astrophysical Telescope Missions 1559
Leonard Dorsky
Part VIII MEDICAL AND FORENSIC IMAGING 1579
42 Visual Imaging for Diagnosis and Robotic Surgery 1581
Rajesh Kumar
43 Volumetric Medical Imaging 1593
Jianhua Yao and Joseph E. Burns
44 Digital Microscopy 1613
Nico Stuurman and Kurt Thorn
45 Digital Photo Forensics 1641
Neal Krawetz
Future Developments 1670
Related Articles 1670
References 1670
Index 1675
See More
Editor-in-Chief Dr. Kriss received his BA(1962), MS(1964) and PhD(1969) in Physics from the University of California at Los Angeles. He joined the Eastman Kodak Research Laboratories, Color Photography Division, in 1969 and later the Physics Division until his retirement in 1993. In his early years at Kodak, Dr, Kriss focused on color film image structure and modled and simulated the impact of chemical development on image structure and color reproduction. When he joined the Physics Division he focused on image processing of scanned and captured digital images. Dr Kriss spent three years in Japan where helped build an advanced research facility. At Kodak he headed up the Imaging Processing Laboratory and Algorithm Developing Laboratory. He joined the University of Rochester in 1993 where he was the executive director of the Center for Electronic Imaging Systems and taught through the Computer and Electrical Engineering Department. He joined Sharp Laboratories of America in 2000 where he headed the Color Imaging Group. Dr Kriss retired in 2004 but is still active as a consultant, Adjunct Professor at Portland State University, IS&T activities, and as the Editor in Chief of the Wiley-IS&T Series on Imaging Science and Technology.
Associate Editors
Michael Kriss – See above
Pochi Yeh – Electrical and Computer Engineering, UC Santa Barbara
Claire Gu – Jack Baskin School of Engineering, University of California Santa Cruz
Li Yang – Technical Manager, Innventia, Sweden
Gianluigi Ciocca - Imaging & Vision Laboratory, Università degli Studi di Milano-Bicocca, Italy
Rajesh Kumar - Engineering Research Center for Computer Integrated Surgical Systems and Technology (ERC/CISST), Johns Hopkins University
Randall Friedl - JPL, NASA
See More