High-Altitude Platforms for Wireless Communications
ISBN: 978-0-470-51061-2
Hardcover
256 pages
November 2008
US $130.00

Add to Cart
This price is valid for United States. Change location to view local pricing and availability.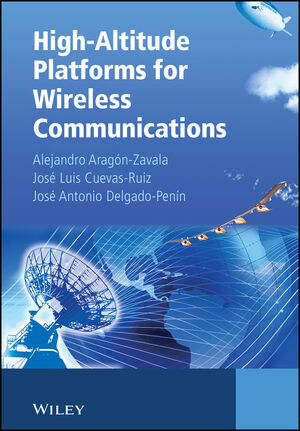 Other Available Formats:
E-book
Preface.
1 Introduction.
1.1 What is a HAPS?
1.2 Structure of the Book.
2 Overview on HAPS.
2.1 HAPS System Concepts.
2.2 Radio Regulations for HAPS.
2.3 Applications and Services.
2.4 HAPS Networks.
2.5 Terrestrial, Satellite and Stratospheric Communication Systems: A Comparison.
2.6 Survey of the Evolution and State-of-the-Art of HAPS in the World.
3 Propagation and Channel Modelling.
3.1 Introduction.
3.2 An Overview of Propagation Phenomena.
3.3 Channel Modelling.
3.4 Fading Mitigation Techniques.
3.5 Conclusions.
4 Antennas for HAPS.
4.1 Introduction.
4.2 Antenna Requirements.
4.3 Antenna Types for High-Altitude Platforms.
4.4 Antenna Design Recommendations at Operating Frequencies Allocated to HAPS.
4.5 Steering Mechanisms.
4.6 Beamforming.
4.7 Challenges.
5 Communication Systems Based on HAPS.
5.1 Components of HAPS Communication Systems.
5.2 Spectrum Allocation for HAPS.
5.3 HAPS Link Budget.
5.4 Conclusions.
6 HAPS Networks.
6.1 Introduction.
6.2 Network Topologies.
6.3 Network Architectures for Service Candidates.
6.4 Interworking Requirements.
6.5 HAPS Networks for Other Applications.
6.6 Free Space Optical Links in HAPS.
6.7 Resource Management.
6.8 HAPS as Part of Integrated Communication Networks.
7 The Future.
7.1 Introduction.
7.2 Challenges and Opportunities for Civil UAS.
7.3 Applications for Civil UAS.
7.4 Requirements for the Future of the Civil UAS.
7.5 Technological Trends.
7.6 Technological Challenges for HAPS Applied to Wireless Communications.
7.7 Conclusions.
References.
Glossary.
Index.