High-Altitude Platforms for Wireless Communications
ISBN: 978-0-470-51061-2
256 pages
November 2008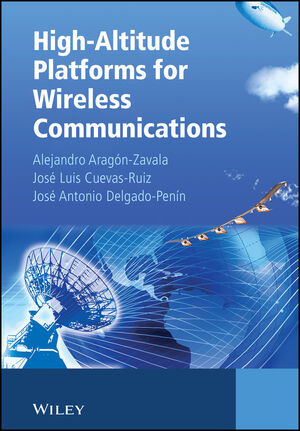 Provides an introduction to High-Altitude Platform Stations (HAPS) technology and its applications for wireless communications
High-altitude platform stations offer a promising new technology that combines the benefits of terrestrial and satellite communication systems for delivering broadband communications to users at a low cost. They are easily deployable and easy to maintain, which is why they offer a good alternative for network operators who need to find ways to get more coverage to satisfy the increasing demand for more capacity. HAPS are usually balloons, airships or unmanned aerial systems (UAS) located in the stratosphere.  An enormous interest has grown worldwide to examine their use not only for broadband communications, but also for emergency services, navigation, traffic monitoring, cellular, etc.
Key features include:
Unique book focusing on emerging HAPS technology and its applications
Provides a thorough overview of the technology including HAPS-based communications systems, antennas for HAPS, radio propagation and channel modelling issues and HAPS networking aspects
Presents various HAPS-related projects and initiatives developed throughout the world (North America, Europe and Asia-Pacific)
Features a comprehensive overview on both aeronautical and telecommunications regulatory aspects, which will affect the deployment and future developments in the field of HAPS
High-Altitude Platform Systems for Wireless Communications will prove essential reading for postgraduate students in the field of HAPS, engineers, developers and designers involved in the design and maintenance of HAPS, aerospace engineers, and communications system planners and researchers.
See More
Preface.
1 Introduction.
1.1 What is a HAPS?
1.2 Structure of the Book.
2 Overview on HAPS.
2.1 HAPS System Concepts.
2.2 Radio Regulations for HAPS.
2.3 Applications and Services.
2.4 HAPS Networks.
2.5 Terrestrial, Satellite and Stratospheric Communication Systems: A Comparison.
2.6 Survey of the Evolution and State-of-the-Art of HAPS in the World.
3 Propagation and Channel Modelling.
3.1 Introduction.
3.2 An Overview of Propagation Phenomena.
3.3 Channel Modelling.
3.4 Fading Mitigation Techniques.
3.5 Conclusions.
4 Antennas for HAPS.
4.1 Introduction.
4.2 Antenna Requirements.
4.3 Antenna Types for High-Altitude Platforms.
4.4 Antenna Design Recommendations at Operating Frequencies Allocated to HAPS.
4.5 Steering Mechanisms.
4.6 Beamforming.
4.7 Challenges.
5 Communication Systems Based on HAPS.
5.1 Components of HAPS Communication Systems.
5.2 Spectrum Allocation for HAPS.
5.3 HAPS Link Budget.
5.4 Conclusions.
6 HAPS Networks.
6.1 Introduction.
6.2 Network Topologies.
6.3 Network Architectures for Service Candidates.
6.4 Interworking Requirements.
6.5 HAPS Networks for Other Applications.
6.6 Free Space Optical Links in HAPS.
6.7 Resource Management.
6.8 HAPS as Part of Integrated Communication Networks.
7 The Future.
7.1 Introduction.
7.2 Challenges and Opportunities for Civil UAS.
7.3 Applications for Civil UAS.
7.4 Requirements for the Future of the Civil UAS.
7.5 Technological Trends.
7.6 Technological Challenges for HAPS Applied to Wireless Communications.
7.7 Conclusions.
References.
Glossary.
Index.
See More
Dr. Aragón-Zavala
graduated from Tecnológico de Monterrey, Campus Querétaro as Electronics and Communications Engineer in December 1991. In 1998 he received his MSc in Satellite Communication Engineering from the University of Surrey, and in 2003 his PhD in Antennas and Propagation at the same university.
He has worked as an engineer and consultant in the industry, and since 2003, Dr. Aragón-Zavala is the Academic Director of the former IEC and ISE undergraduate programs at the Tecnológico de Monterrey Campus Querétaro, and is in charge of ITE (all Electronic Engineering degrees) . His research interests include: mobile communications, satellite systems, high-altitude platform systems, antenna design and indoor propagation.
Dr José Luis Cuevas-Ruiz received his PhD from Universitat Politecnica de Catalunya in 2005, where he was involved in the HeliNet and CAPANINA projects related to high-altitude platform systems. His research interests include HAPS, wireless communications and channel modelling. He has been with Tecnológico de Monterrey Campus Estado de México since 1999, and currently he is Head of the Communications Research group at Campus Estado de México.
Dr José Antonio Delgado-Penin is a full professor at the Department of Signal Theory and Communications, at Universitat Politécnica de Catalunya, Spain since 1984. His Academic, technical and research activities have been at Philips N.V, ETSITM, Polito, CNET, Univ. Manchester and UCLA amongst others, all in the field of Telecommunications engineering.
See More