E-book
Return on Ideas: A Practical Guide to Making Innovation Pay
ISBN: 978-0-470-51207-4
280 pages
May 2008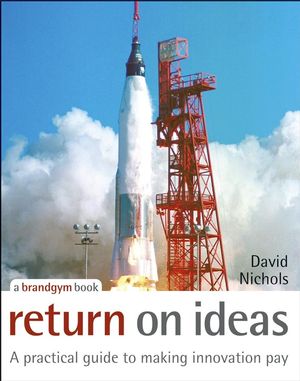 Return on Ideas
is a practical guide to getting more from the resources you put into your innovation process. David Nichols clearly shows why current innovation funnel models stifle rather than encourage new ideas, and offers a new methodology, 'rocketing', to tackle the problem.
The first book to look in detail at innovation as a business-driving imperative, Return on Ideas provides the tools, techniques and processes to actually upgrade the way you tackle innovation, illustrated with examples from innovative companies such as Yo! Sushi, Apple, Vodafone, Unilever, P&G, Danone, Amex and Ben & Jerry's – as well as unconventional sources such as theatre and comedy.
See More
About the Author.
Acknowledgements.
Chapter 1. This is getting us nowhere.
Chapter 2. How to navigate this book.
PART I: THE CASE STUDY.
Chapter 3. The Calippo Shots Story.
PART II: THE CHALLENGE.
Chapter 4. Innovation isn't working.
PART III: THE CORE IDEA.
Chapter 5. A new innovation paradigm: The Rocket Motor.
Chapter 6. Rocketing: Destination.
Chapter 7. Rocketing: Combustion.
Chapter 8. Rocketing: Nozzle.
Chapter 9. Rocketing: Expander.
PART IV: THE ENTERTAINMENT.
Chapter 10. Ten innovations that make it look easy.
PART V: THE PRACTICALITIES.
Chapter 11. Doing it Faster.
Chapter 12. Avoiding the Pitfalls.
Appendix: Rocketing Toolkit.
Index.
See More
David Nichols is a marketing coach who "makes us feel like we can achieve everything we want" according to one of his global brand director clients. He teamed up with David Taylor in 2006 to become a Managing Partner of the brandgym, a consultancy that coaches teams to create a clear brand vision and the action plan to turn this into growth. He has led brand vision and innovation projects for many global companies and brands including Castrol, Vodafone, Unilever and Cadburys.
David is the author of "Brands & Gaming: The computer gaming phenomenon and its impact on brands and business" published by Palgrave Macmillan in 2005, cataloguing the rise and rise of a new global cultural phenomenon that is going to change the marketing landscape forever.
He started his career at OC&C Strategy consultants, moving on to the marketing consultancy Added Value where he spent 11 years rising to be Managing Director of the UK, including stints in Paris and as MD in Australia.
David has written and produced three full scale musicals and managed a professional improv troupe, The Impro Musical, working with Tony Slattery, Eddie Izzard and Greg Proops.
He has a first class degree in Aerospace Engineering from Bristol University and in his spare time is an aerobatic pilot.
Contact David at davidn@thebrandgym.com
See More