Managing Aggressive Behaviour in Care Settings: Understanding and Applying Low Arousal Approaches
ISBN: 978-0-470-51232-6
270 pages
May 2010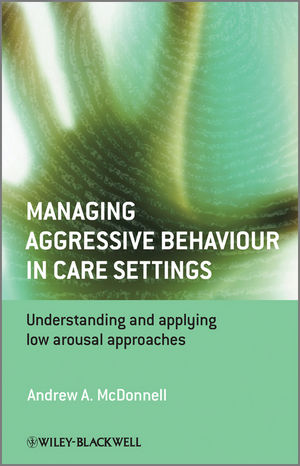 A practical guide for health professionals and trainers, offering evidence-based low arousal approaches to defusing and managing aggressive behaviours in a variety of health care settings.
Provides both an academic background and practical advice on how to manage and minimize confrontation
Illustrates low arousal approaches and offers clear advice on physical restraint and the reduction of these methods
Describes the evidence base for recommended approaches
Includes a wide range of valuable case examples from a variety of care settings
See More
Preface.
Acknowledgements.
1. Understanding Violence and Aggression in Care Settings.
2. The Development of a Low Arousal Approach.
3. Developing a Core Training Course.
4. Managing Aggressive Behaviour in Services for People with an Intellectual Disability.
5. Managing Aggressive Behaviour in Individuals with Autistic Spectrum Disorders.
6. Applying Low Arousal Approaches to Children and Adolescents in Residential Care Services.
7. Developing Alternatives to Coercive BehaviourManagement Approaches in Psychiatric Settings.
8. Low Arousal Approaches in Care Environments for Older Adults.
9. Evaluating the Outcomes of CrisisManagement Training.
10. Emerging Themes.
References.
Index.
See More
Andrew A. McDonnell is a practicing Clinical Psychologist specializing in working with clients who exhibit challenging behaviours. He has published numerous articles on the subject of behaviour management in international journals and is the founder of the international training organization, Studio III Training Systems.
See More