Enabling Technologies for Mobile Services: The MobiLife Book
ISBN: 978-0-470-51290-6
438 pages
October 2007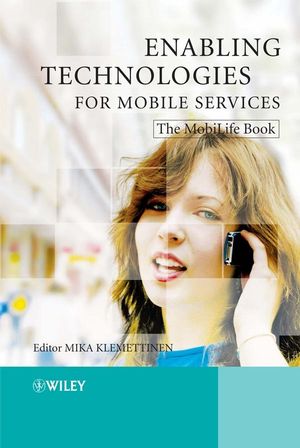 The expected future evolution of mobile and wireless communication technologies will enable a whole new generation of mass-market-scale ubiquitous services and applications. The challenge now is to research and develop applications and services addressing the true needs of the end-users, and to provide engaging and sustaining added value to them.
Enabling Technologies for Mobile Services takes a comprehensive approach on these challenges and provides practical guidelines on building new, innovative applications and services. It shares knowledge gained from a collaborative research project where the methods and technologies were applied and utilised.
This book is ideal for professionals working with enabling technologies and service architecture in companies. It will also be of interest to academics and students studying applications/services, enabling technologies and service architectures at the universities and to anyone interested in the general issues surrounding mobile technology. 
Key features:
Covers key topics in the B3G area including applications and services from the users, key enabling technologies, regulatory and business models, end-user evaluations and applications/services creation points of view
Explains the results of major collaborative (industry-academia-SMEs) MobiLife research project
Builds on previous and parallel interaction with the Wireless World Research Forum
Explores pioneering legal/regulatory analysis of the challenges related to new, advanced application/service solutions including personalisation and DRM
Presents qualitative evaluations and field studies of more than 250 end-users in Italy and Finland
Additional material available on companion website
See More
Preface.
Acknowledgments.
Contributors.
Chapter 1 Introduction.
Chapter 2 Users, Applications and Services, and User Centricity.
Chapter 3 Mobile Services Architecture.
Chapter 4 Context Awareness and Management.
Chapter 5 Multimodality and Personalisation.
Chapter 6 Privacy, Trust and Group Communications.
Chapter 7 Reference Applications.
Chapter 8 Trials and Evaluation for Acceptance.
Chapter 9 Marketplace Dynamics and Business Models Framework.
Chapter 10 Legal and Regulatory Framework.
Chapter 11 Conclusions.
Glossary.
Index.
See More
Book editor
Mika Klemettinen (Nokia)
Chapter 1
Editor Mika Klemettinen (Nokia)
Authors Andy Aftelak (Motorola Ltd)
Mika Klemettinen (Nokia)
Jukka T Salo (Nokia)
Chapter 2
Editor Annakaisa H¨ayrynen (Elisa)
Authors Andy Aftelak (Motorola Ltd)
Luca Galli (Neos)
Annakaisa H¨ayrynen (Elisa)
Ulla Killstr¨om (Elisa)
Esko Kurvinen (Helsinki University of Technology)
Harri Lehmuskallio (Helsinki University of Technology)
Mia L¨ahteenm¨aki (Nokia)
Kevin Mercer (Motorola Ltd)
Antti Salovaara (Helsinki University of Technology)
Chapter 3
Editors Bernd Mrohs (Fraunhofer FOKUS)
Stephan Steglich (Fraunhofer FOKUS)
Authors Bharat Bhushan (Fraunhofer FOKUS)
Mathieu Boussard (Alcatel-CIT)
Alexander Domene (Fraunhofer FOKUS)
Renata Guarneri (Siemens SpA)
Denis Leclerc (Alcatel-CIT)
Alessandro Mamelli (HP Italiana)
Bernd Mrohs (Fraunhofer FOKUS)
Christian del Rosso (Nokia)
Christian R¨ack (Fraunhofer FOKUS)
xv
JWBK185-FM JWBK185-Klemettinen July 5, 2007 19:59 Char Count= 0
xvi Contributors
Alfons Salden (Telematica Instituut)
Jukka T Salo (Nokia)
Stephan Steglich (Fraunhofer FOKUS)
Chapter 4
Editors Patrik Flor´een (University of Helsinki)
Matthias Wagner (DoCoMo Euro-Labs)
Authors Agathe Battestini (Nokia)
Adrian Flanagan (Nokia)
Patrik Flor´een (University of Helsinki)
Stefan Gessler (NEC)
Johan Koolwaaij (Telematica Instituut)
Eemil Lagerspetz (University of Helsinki)
Sian Lun Lau (University of Kassel)
Marko Luther (DoCoMo Euro-Labs)
Miquel Martin (NEC)
Jean Millerat (Motorola SAS)
Bernd Mrohs (Fraunhofer FOKUS)
Petteri Nurmi (University of Helsinki)
Massimo Paolucci (DoCoMo Euro-Labs)
Julien Robinson (Alcatel-CIT)
Jukka Suomela (University of Helsinki)
Claudia Villalonga (NEC)
Matthias Wagner (DoCoMo Euro-Labs)
Chapter 5
Editors David Bonnefoy (Motorola SAS)
Olaf Dr¨ogehorn (University of Kassel)
Ralf Kernchen (University of Surrey)
Authors David Bonnefoy (Motorola SAS)
Mathieu Boussard (Alcatel-CIT)
Nermin Brgulja (University of Kassel)
Alexander Domene (Fraunhofer FOKUS)
Olaf Dr¨ogehorn (University of Kassel)
Giovanni Giuliani (HP Italiana)
Ralf Kernchen (University of Surrey)
Sian Lun Lau (University of Kassel)
Jean Millerat (Motorola SAS)
Bernd Mrohs (Fraunhofer FOKUS)
Petteri Nurmi (University of Helsinki)
Pekka J Ollikainen (Nokia)
Mateusz Radziszewski (BLStream)
Christian R¨ack (Fraunhofer FOKUS)
Marcin Salacinski (BLStream)
Alfons Salden (Telematica Instituut)
Michael Sutterer (University of Kassel)
JWBK185-FM JWBK185-Klemettinen July 5, 2007 19:59 Char Count= 0
Contributors xvii
Chapter 6
Editors G¨oran Schultz (LM Ericsson)
Olivier Coutand (University of Kassel)
Ronald van Eijk (Telematica Instituut)
Johan Hjelm (Ericsson AB)
Silke Holtmanns (Nokia)
Markus Miettinen (Nokia)
Rinaldo Nani (Neos)
Authors Stefano Campadello (Nokia)
Olivier Coutand (University of Kassel)
Peter Ebben (Telematica Instituut)
Ronald van Eijk (Telematica Instituut)
Johan Hjelm (Ericsson AB)
Silke Holtmanns (Nokia)
Theo Kanter (Ericsson AB)
Sian Lun Lau (University of Kassel)
Miquel Martin (NEC)
Bj¨orn Mel´en (LM Ericsson)
Markus Miettinen (Nokia)
Rinaldo Nani (Neos)
Petteri Nurmi (University of Helsinki)
Mateusz Radziszewski (BLStream)
Marcin Salacinski (BLStream)
G¨oran Schultz (LM Ericsson)
Esa Turtiainen (LM Ericsson)
Chapter 7
Editor Dario Melpignano (Neos)
Authors P´eter Boda (Nokia)
Nermin Brgulja (University of Kassel)
Stefan Gessler (NEC)
Giovanni Giuliani (HP Italiana)
Johan Koolwaaij (Telematica Instituut)
Miquel Martin (NEC)
Dario Melpignano (Neos)
Jean Millerat (Motorola SAS)
Rinaldo Nani (Neos)
Petteri Nurmi (University of Helsinki)
Pekka J Ollikainen (Nokia)
Petr Polasek (UNIS)
Mateusz Radziszewski (BLStream)
Marcin Salacinski (BLStream)
G¨oran Schultz (LM Ericsson)
Michael Sutterer (University of Kassel)
Dari Trendafilov (Nokia)
Libor Ukropec (UNIS)
JWBK185-FM JWBK185-Klemettinen July 5, 2007 19:59 Char Count= 0
xviii Contributors
Chapter 8
Editors Esko Kurvinen (Helsinki University of Technology)
Renata Guarneri (Siemens SpA)
Jukka T Salo (Nokia)
Authors Agathe Battestini (Nokia)
Luca Galli (Neos)
Renata Guarneri (Siemens SpA)
Annakaisa H¨ayrynen (Elisa)
Mika Karlstedt (University of Helsinki/Nokia)
Esko Kurvinen (Helsinki University of Technology)
Harri Lehmuskallio (Helsinki University of Technology)
Kari Lehtinen (Elisa)
Mia L¨ahteenm¨aki (Nokia)
Rinaldo Nani (Neos)
Pekka J Ollikainen (Nokia)
Marcin Salacinski (BLStream)
Nicoletta Salis (Telecom Italia)
Jukka T Salo (Nokia)
Antti Salovaara (Helsinki University of Technology)
Chapter 9
Editor Ulla Killstr¨om (Elisa)
Authors Luca Galli (Neos)
Timber Haaker (Telematica Instituut)
Olli Immonen (Nokia)
Ulla Killstr¨om (Elisa)
Mark de Reuver (Telematica Instituut/TU Delft)
Chapter 10
Author Olli Pitk¨anen (Helsinki Institute for Information Technology
HIIT, Helsinki University of Technology and University of
Helsinki)
Chapter 11
Editor Mika Klemettinen (Nokia)
Authors Andy Aftelak (Motorola LTD)
Mika Klemettinen (Nokia)
Jukka T Salo (Nokia)
See More