Metal Ions in Life Sciences, 4 Volume Set
ISBN: 978-0-470-51324-8
1912 pages
May 2007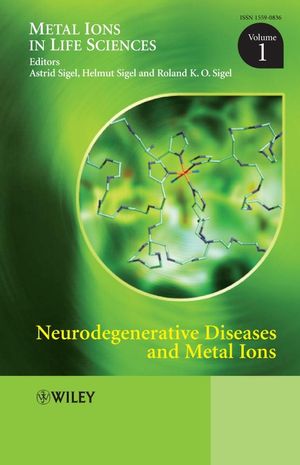 Metal Ions in Life Sciences
links coordination chemistry and biochemistry in their widest sense and thus increases our understanding of the relationship between the chemistry of metals and life processes. The series reflects the interdisciplinary nature of Biological Inorganic Chemistry and coordinates the efforts of scientists in fields like biochemistry, inorganic chemistry, coordination chemistry, molecular and structural biology, enzymology, environmental chemistry, physiology, toxicology, biophysics, pharmacy, and medicine. Consequently, the volumes are an essential source for researchers active in these and related fields as well as teachers preparing courses, e.g., in Bioinorganic Chemistry.
Providing you with all four volumes in one easily accessible place, our set offers you a fantastic discount on this invaluable series! Set includes:
Volume 1: Neurodegenerative Diseases and Metal ions
Devoted solely to the vital research area concerning the role of metal ions in neurodegenerative diseases, offers in 15 stimulating chapters an authoritative and timely view of this fascinating subject.  
Volume 2: Nickel and Its Surprising Impact in Nature
The "one-stop" book for Nickel biochemistry, it focuses on the vibrant research area concerning nickel as well as its complexes and their role in Nature, and contains more than 2,800 references and over 130 illustrations.
Volume 3: The Ubiquitous Roles of Cytochrome P450 Proteins
Provides a systematic overview on this hot research area, spanning the gap between fundamental research and applied search, this volume describes key classes of proteins and enzymes and includes chapters on drug metabolism and biodegradation.
Volume 4: Biomineralization: From Nature to Application
Biomineralization is a hot topic in the area of materials, and this volume in the Metals Ions in Life Sciences series takes a systematic approach, dealing with all aspects from the fundamentals to applications. Key biological features of biomineralization, such as gene directed growth and the role of enzymes are covered, as are new areas, including copper/zinc in the jaws of invertebrates or magnetic biomaterials that help birds with navigation
For more information on the series please go to www.wiley.com/go/mils
See More
Astrid Sigel has studied languages and was an editor of the Metal Ions in Biological Systems series (until Volume 44) and also of the Handbooks on Toxicity of Inorganic Compounds (1988), on Metals in Clinical and Analytical Chemistry (1994; both with H.G. Seiler), and on Metalloproteins (2001; with Ivano Bertini) (Dekker, New York).
Helmut Sigel is Emeritus Professor (2003) of Inorganic Chemistry at the University of Basel, Switzerland, and a previous editor of the MIBS series until Volume 44. He serves on various editorial and advisory boards, published over 300 articles on metal ion complexes of nucleotides, coenzymes, and other ligands of biological relevance, and lectured worldwide. He was named Protagonist in Chemistry (2002) by ICA (issue 339); among further honors are the P. Ray Award (Indian Chemical Society, of which he is also an Honorary Fellow), the Werner Award (Swiss Chemical Society), a Doctor of Science honoris causa degree (Kalyani University, India), appointments as Visiting Professor (e.g., Austria, China, UK) and Endowed Lectureships.
Roland K.O. Sigel is Assistant Professor (2003) of Inorganic Chemistry at the University of Zürich, Switzerland, endowed with a Förderungsprofessur of the Swiss National Science Foundation. He received his doctoral degree summa cum laude (1999) from the University of Dortmund, Germany, working with Bernhard Lippert; thereafter he spent nearly three years at Columbia University, New York, USA, in the group of Anna Marie Pyle (now Yale University); during the six years abroad he received several fellowships from various sources. His research focuses on the structural and catalytic role of metal ions in ribozymes, especially group II introns, and on related topics. He was also an editor of Volumes 43 and 44 of the MIBS series.
See More