E-book
Non-Reproductive Actions of Sex Steroids
ISBN: 978-0-470-51476-4
284 pages
April 2008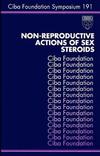 Prominent clinicians and researchers from diverse disciplines discuss the basic cell and molecular biology of steroid action and sex steroids' effects on the nervous and immune systems. Provides an integrated evaluation of the advantages and disadvantages of hormone replacement therapy.
See More
Partial table of contents:
Transcriptional Control by Steroid Hormones: The Role of Chromatin (M. Truss, et al.).
Non-Genomic Mechanisms of Action of Steroid Hormones (E. Baulieu & P. Robel).
Actions of Sex Steroids on Behaviours Beyond Reproductive Reflexes (A. Priest & D. Pfaff).
Neurosteroids: Synthesis and Functions in the Central and Peripheral Nervous Systems (M. Schumacher & E. Baulieu).
Oestrogen Synthesis, Oestrogen Metabolism and Functional Oestrogen Receptors in Bovine Aortic Endothelial Cells (F. Bayard, et al.).
Hormone Replacement Therapy and Cardiovascular Disease: The Case for a Randomized Controlled Trial (M. Vickers, et al.).
Symptoms Related to the Menopause and Sex Steroid Treatments (T. Bäckström).
Sex Steroids and the Immune System (H. Fox).
Human Prostate Cancer: A Direct Role for Oestrogens (L. Castagnetta & G. Carruba).
Indexes.
See More
More in this series