E-book
Transport and Trafficking in the Malaria-Infected Erythrocyte, No. 226
ISBN: 978-0-470-51574-7
E-book
304 pages
April 2008
US $129.99

Purchase This E-book
This price is valid for United States. Change location to view local pricing and availability.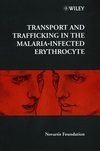 Adobe e-books are read using Adobe Digital Editions. Install Adobe Digital Editions on your PC in order to read or transfer your e-book.
Introduction: host-parasite interrelations in the genomic age
H. GINSBURG
Erythrocyte membrane transport
Z. I. CABANTCHIK
Chemical and physical in vitro alterations of the erythrocyte membrane: a model for its pathophysiological states?
B. DEUTICKE
The effects of transport perturbations on the homeostasis of red blood cells
V. LEW and A.R. HOCKADAY
Transport properties of the host cell membrane
K. KIRK, H.M. STAINES, R.E. MARTIN and K.J. SALIBA
Transport of phospholipid synthesis precursors and lipid trafficking into malaria-infected erythrocytes
H.J. VIAL, P. ELDIN, D. MARTIN, L. GANNOUN, M. CALAS and M.L. ANCELIN
A nutrient-permeable channel on the intraerythrocytic malaria parasite
S.A. DESAI
The permeability properties of the parasite cell membrane
H. GINSBURG
Macromolecular transport in malaria-infected erythrocytes
T. F. TARASCHI
Expression of parasite transporters in Xenopus oocytes
S. KRISHNA and C.J. WOODROW
Reconstitution of protein transport across the vacuolar membrane in Plasmodium falciparum-infected permeabilized erythrocytes
S. BAUMEISTER, A. BURGWEDEL, U.-G. MAIER and K. LINGELBACH
Export of parasite proteins to the erythrocyte cytoplasm: secretory machinery and signalling motifs
F.R. ALBANO, M. FOLEY and L. TILLEY
Transport and trafficking: Toxoplasma as a model for Plasmodium
D.S. ROOS, M.J. CRAWFORD, R.G.K. DONALD, L.M. FOHL, K.M. HAGER, J.C. KISSINGER, M.G. REYNOLDS, B. STREIPEN and W.J. SULLIVAN Jr
An alternative secretory pathway in Plasmodium: more questions than answers
M.F. WISER, D.J. GRAB, and H.N. LANNERS
The transport of the histidine-rich protein I from Plasmodium falciparum is insensitive to brefeldin A
D. MATTEI, L. BERRY, S. COUFFIN and O. RICHARD
Protein transport in the host cell cytoplasm and ATP-binding cassette proteins in Plasmodium falciparum-infected erythrocytes
Z. BOZDECH and E. SCHURR
Chloroquine uptake and activity is determined by binding to ferriprotoporphyrin IX in Plasmodium faciparum
P.G. BRAY, O. JANNEH and S.A. WARD
Chloroquine uptake, altered partiitioning and the basis of drug resistance: evidence for chloride dependent ionic regulation
J.A. MARTINEY, A.S. FERRER, A. CERAMI, S. DZEKUNOV and P. ROEPE