Software
Wiley Registry of Mass Spectral Data, 9th Edition
ISBN: 978-0-470-52035-2
Software
October 2009
US $8,695.00

Add to Cart
This price is valid for United States. Change location to view local pricing and availability.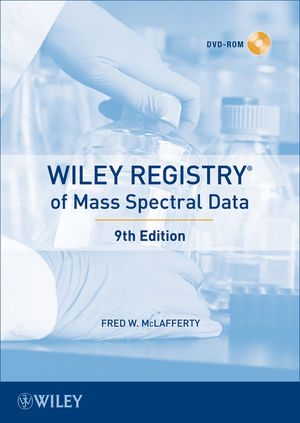 For Reliable Compound Identification, More Is Better
Wiley Registry Comprehensive
The Wiley Registry of Mass Spectral Data contains nearly 3X the compounds as NIST 2011. Nearly 78% of the compounds in the Wiley Registry are not in the NIST 2011.
662,000 mass spectra
565,000 searchable structures
68,000 replicate spectra
592,000 compounds
Metabolites and decomposition products
Screening compounds for combinatorial synthesis
Applications include pathology, forensics, quality assurance, border control, research and development, commercial deformulation, food safety, food quality, and anywhere an unknown compound must be identified or a known compound must be confirmed.
Wiley Registry Powerful
Reliably detecting unknowns is limited without adequate spectral library coverage. With the addition of hundreds of thousands of compounds as well as combinatorial synthesis building blocks, the Wiley Registry provides labs with the most powerful commercially available tool for detection of known unknowns as well as novel unknowns requiring fragmentation analysis.
Wiley Registry Coverage
Today's labs need libraries that fit their needs. Check coverage today for free at Compound Search. The Wiley Registry is also available online through Wiley Online Library.
System Requirements
Windows XP SP3, Windows 7, DVD drive, 2GB free disk space, compatible mass spectrometry software.
Multiple format DVD contains mass spectral library in the following formats: NIST MS Search software (compatible with most mass spectrometry software), ACD/Labs MS Manager, Agilent Chemstation and MassHunter, PerkinElmer TurboMass, Shimadzu GCMS Solution, Thermo Spectral ID, and Waters MassLynx.
Available from Wiley and Directly from These Manufacturers
Agilent Technologies, ACD/Labs, JEOL, Leco, PerkinElmer, Shimadzu, TA Instruments, Thermo Scientific, and Waters.
Also available from Amazon.com, Axel Semrau, Bargal Analytical, Digital Data Management Corp., MS-Wil, MasCom, MSP Kofel, Scientific Instrument Services (SIS), Quatum Analytics, and Stanton Scientific.