The Amish Way: Patient Faith in a Perilous World
ISBN: 978-0-470-52069-7
Hardcover
288 pages
September 2010, Jossey-Bass
US $24.95

Add to Cart
This price is valid for United States. Change location to view local pricing and availability.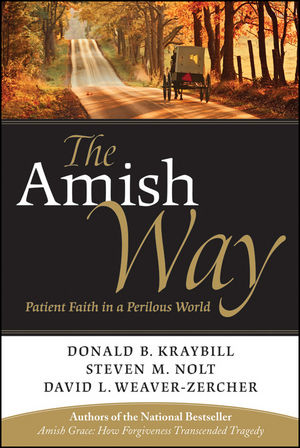 December 08, 2010
THE AMISH WAY: Patient Faith in a Perilous World
Connect with Wiley Publicity
THE AMISH WAY: PATIENT FAITH IN A PERILOUS WORLD
Introducing the Very First Book on Amish Spirituality
San Francisco, CA (October 2010)— Four years ago this month, the world was stunned by the murders of five schoolgirls in a small schoolhouse in Nickel Mines, Pennsylvania. Within hours, the Amish community forgave the gunman and rallied around his family, an act of compassion and forgiveness so powerful, so unbelievable, and for many, so questionable that it led three authors who know the Amish well to write AMISH GRACE, a book about the role of forgiveness in Amish culture. The book was an instant bestseller and the basis of a recent Lifetime television movie¾the most-viewed movie in the network's history. The tragedy, the book, the movie, and recent articles in USA TODAY and Time magazine all suggest a growing fascination with different aspects of Amish life, and are a reminder of just how little we know about these famously private people, living in rural communities all around the United States.
In their new book, THE AMISH WAY: Patient Faith in a Perilous World, (October 2010; Jossey-Bass, an imprint of Wiley; $24.95; Cloth; ISBN: 978-0-470-52069-7), the three authors who helped us understand the role of forgiveness in Amish culture have written the very first book ever on Amish spirituality and practice. It's a rare inside look at how Amish Christian beliefs and practices inform every aspect of Amish daily life, and explains, for example, why they shun cars, have no electricity in their homes, and stop formal education at grade eight.
On some levels, the Amish and their countercultural ways offend the typical American's individualist sensibilities, but this window into Amish religious beliefs may challenge and even change some of those perceptions. After all, the tight-knit Amish community fosters a genuine sense of belonging. Each day, these people choose to live out their core values of submission, obedience, and patience, and to adhere to strict community rules.
This is the story of the Amish religious experience, told through the Amish cultural lens by three scholars whom the Amish have come to trust as interpreters of their way of life. It is engaging, mind-boggling at times, and may prove problematic for some. But it may also serve as a challenge to people of faith, many of whom struggle daily to live out the tenets of their own faith in a world full of distracting modern convenience.