Mastering Revit Structure 2010
ISBN: 978-0-470-52141-0
912 pages
September 2009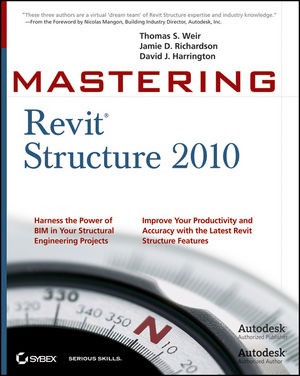 Mastering Revit Structure 2010 covers both the basics and the advanced features and functions. Written by a team of authors who are deeply involved with the Revit community, Mastering Revit Structure 2010 explains the tools and functionality in the context of professional, real-world tasks and workflows. With hands-on tutorials to demonstrate the concepts, Mastering Revit Structure 2010 is perfect for anyone who needs to learn Revit Structure 2010 quickly and thoroughly. Additionally, there is a companion Web site offers before-and-after tutorial files for downloading.
See More
Chapter 1: Inside Revit Structure.
Chapter 2: Setting the Project Environment.
Chapter 3: Starting to Model Your Project.
Chapter 4: Structural Columns.
Chapter 5: Floor Slabs and Roof Decks.
Chapter 6: Walls.
Chapter 7: Structural Framing.
Chapter 8: Foundations.
Chapter 9: Model Documentation.
Chapter 10: Modeling Rebar.
Chapter 11: Schedules and Quantities.
Chapter 12: Working with Sheets.
Chapter 13: Worksharing.
Chapter 14: Visualization.
Chapter 15: Revit Structural Analysis.
Chapter 16: Project Phases and Design Options.
Chapter 17: Standards: Increasing Revit Productivity.
Chapter 18: Family Creation: Beyond the Built-In Libraries.
Chapter 19: Advanced Structural Families.
See More
About the Authors
Thomas S. Weir is Director of BIM and CAD operations at Brandow & Johnston in Los Angeles. He is co-chairman and founder of the L.A. Revit Users Group, moderates the Autodesk User Group International (AUGI) Revit Structural forum, teaches Revit Structure at Autodesk University, and wrote the first Autodesk Official Training Courseware for Revit Structure. Jamie D. Richardson is an associate and CAD/BIM Manager for Ericksen Roed & Associates in the Twin Cities area. He speaks at Autodesk University, is active in his local Revit User Group, and mentors students at local technical colleges. David J. Harrington, former president and former board member of AUGI, is currently a structural designer for Walter P. Moore. He writes for industry publications, is the technical editor for AUGIWorld magazine, teaches at Autodesk University, and maintains a popular blog (caddhelp.blogspot.com).
See More
Learn more about