E-book
Digital Infrared Photography
ISBN: 978-0-470-52231-8
272 pages
June 2009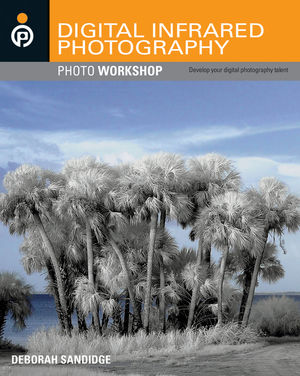 Let your motto become "What would happen if. . . ?"
Infrared light offers photographers another artistic avenue to explore. You don't need years of experience or expensive equipment. Just grab an IR filter or a converted digital camera, and you're ready to enter the fascinating world of infrared photography. The unique effects you can create with IR photography are limited only by your imagination.
In these pages, you'll discover the practical information about file formats and composition as well as plenty of creative inspiration.
Discover whether your camera can detect infrared light and compare different IR filters

Learn how to see in IR and master IR composition

Play with effects — extended exposures, shooting through glass, zooming, and painting with light

Explore HDR and Photomerge options

Open more creative possibilities with Photoshop
See More
Introduction.
CHAPTER 1 Introducing Infrared Light.
What Exactly Is IR Light?
Seeing in IR.
Checking Your Camera for IR Sensitivity.
Methods of Recording IR Light.
IR filters.
IR-converted cameras.
CHAPTER 2 Visualizing and Capturing IR Images.
Comparing RAW and JPEG File Formats.
Shooting in Different Color Modes.
Setting White Balance.
Choosing WB or AWB.
Keeping RGB channels in balance.
Understanding Exposure In IR.
Shooting modes.
The histogram.
ISO.
Prime time IR photography.
Using Extra Equipment and Accessories.
Flash, reflectors, and diffusers.
Tripods.
Tripod heads.
Cable release.
Memory cards.
Filters.
CHAPTER 3 Essentials of IR Composition.
How IR Composition Differs from Color.
Subject placement and rule of thirds.
Lines and curves.
Shapes, patterns, and atmospheric perspective.
Balance and symmetry.
Color.
People in compositions.
Silhouettes.
Avoid background distractions.
Choosing Your Lens.
Wide-angle.
Lensbaby.
Creating your own IR style.
CHAPTER 4 Capturing Specific Subjects.
Architecture.
Landscapes.
Foliage.
Water.
Skies and clouds.
People.
Birds.
Animals.
Developing Themes in IR.
CHAPTER 5 Special Effects for Creative In-camera Images.
Long Exposures.
Capturing a sunset.
Capturing the beauty of waterfalls.
Reflections.
Adding Texture.
Vaseline diffusion.
Fabrics.
Shooting through glass.
Zooming.
Creating Image Overlays.
Double exposures.
Digital sandwich.
Blending a traditional color image with IR.
Special Effect Filters.
Painting with Light.
CHAPTER 6 Planning Ahead for High Dynamic Range and Photomerge.
HDR Compared to Using a Graduated Neutral-density Filter.
HDR Software.
Shooting for HDR.
Processing HDR Images.
Using Photoshop for HDR.
Using Photomatix Pro for HDR.
Photomatix's Tone Mapping filter.
Creating Panoramas with Photomerge.
CHAPTER 7 Processing IR Images in Photoshop.
Basic Processing in Adobe Camera RAW.
Converting to Black and White in ACR.
Using Levels and Curves in Photoshop.
Levels.
Curves.
Converting to Black and White in Photoshop.
Converting to Black and White Using Photoshop Plug-ins.
Nik Silver Efex Pro.
Nik Color Efex Pro.
onOne Software's PhotoTools.
Noise Reduction.
Reducing noise in ACR.
Reducing noise in Photoshop.
Nik Dfine 2.0.
Neat Image.
Dodging and burning.
Troubleshooting.
CHAPTER 8 Working Creatively in Photoshop.
Creating a Blue Sky.
Using Selective Color for Impact.
Tinting and Toning.
Tinting and toning software.
Duotones, quad tones, and tri tones.
Replicating a Traditional IR Film Look.
Creating a Digital Sandwich.
Creating Mirrored Images.
Creating Watery Reflections.
Working with Multiple Exposures.
Creating a Montage.
Creative Enhancements Using Filters and Plug-ins.
Finishing Touches.
CHAPTER 9 Transform Color to IR Effect in Photoshop.
Using Techniques in Photoshop for an IR Look.
Using Photoshop Plug-ins for an IR Look.
CHAPTER 10 Be Inspired.
Kathleen T. Carr.
Anna Cary.
Joe Farace.
Lewis Kemper.
Jean Miele.
Joseph Paduano.
Ken Sklute.
David Twede.
Andy Williams.
APPENDIX A Resources.
Glossary.
See More
Deborah Sandidge is Creative Director for the League of Creative Infrared Photographers, where novice, amateur, and professional photographers come to learn how to enhance their digital IR photography skills. Her award-winning photography has appeared in many galleries, publications, and venues.
See More