E-book
Business Valuation For Dummies
ISBN: 978-0-470-52338-4
360 pages
April 2009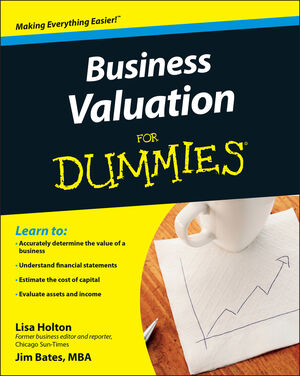 Business Valuation For Dummies is filled with expert guidance that business owners, managers at all levels, investors, and students can use when determining the value of a business. It contains a solid framework for valuation, including advice on analyzing historical performance, evaluating assets and income value, understanding a company's financial statements, estimating the cost of capital, business valuation models, and how to apply those models to different types of businesses.
See More
Introduction.
Part I: What Business Valuation Means.
Chapter 1: The Value of Understanding Business Valuation.
Chapter 2: What Triggers a Business Valuation?
Chapter 3: Understanding the Tangibles and Intangibles of Business Valuation.
Chapter 4: Approaches and Methods — Basic Theories of the Valuation Process.
Chapter 5: The Challenge of Valuation in a Knowledge Economy.
Part II: Getting Familiar with Valuation Tools, Principles, and Resources.
Chapter 6: Getting Familiar with a Typical Valuation Report.
Chapter 7: Meeting the Supporting Players in the Valuation Process.
Chapter 8: Understanding Financial Statements.
Chapter 9: Using Rule-of-Thumb Valuations for Mom-and-Pop Businesses.
Part III: If You're Selling a Business . . . .
Chapter 10: Making Sure You're Ready to Sell.
Chapter 11: Deciding What to Do about the Family Company.
Chapter 12: Due Diligence on the Sell Side.
Chapter 13: Case Study: Valuation on the Sell Side.
Part IV: If You're Buying a Business . . . .
Chapter 14: How Do You Know Whether You're Ready to Buy?
Chapter 15: Moving from Valuation to Negotiation.
Chapter 16: Due Diligence on the Buy Side.
Chapter 17: Forensic Accounting and the Due Diligence Process.
Chapter 18: Case Study: Valuation on the Buy Side.
Part V: Don't Try This at Home! Turning Things Over to the Valuation Experts.
Chapter 19: Divorce.
Chapter 20: Estate Planning and Gifting.
Chapter 21: Attracting Outside Investors to Your Startup.
Part VI: The Part of Tens.
Chapter 22: Ten Reasons to Consider a Prenup.
Chapter 23: Ten Questions to Answer Before Considering a Partnership Agreement.
Chapter 24: Ten Things to Consider Before Transforming Your Company Into an ESOP.
Glossary.
Index.
See More
Lisa Holton
is a former business editor and reporter for the Chicago Sun-Times. Today, she heads The Lisa Company, a writing, editing, and research firm. She's a writer for corporations, colleges, and nonprofits nationwide, and has written more than 13 books.
Jim Bates is Vice President, Transaction Support, for the Christman Group, a middle-market investment banking firm based in Palatine, IL.
See More