Windows 7 Para Dummies
ISBN: 978-0-470-52399-5
504 pages
December 2009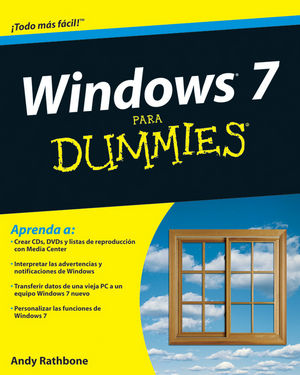 Straightforward, easy-to-use Windows 7 reference and guide for Spanish speakers.
Microsoft's Windows 7, the long-awaited replacement for Windows Vista has arrived, and now you can learn the basics of this new operating system with this practical guide. Understand the new user interface, set up your desktop, cover basic applications, and much more with this easy-to-follow book. Whether you're upgrading or starting fresh, this is the perfect basic reference.
Introduces the operating system and shows you how to navigate the user interface, set up your desktop, and manage files
Covers basic management of applications and data and how to print
Helps you get things done online by setting up a user account and build a home network
Shows you how to have fun with your new system by editing audio, burning CDs, creating videos, and more
Explores troubleshooting issues, such as warning notices, finding missing files, transferring data from one PC to another, and more
This is the basic Windows 7 reference you'll want to keep on hand.
See More
Introducción 1
Parte I: Cosas de Windows 7 Que Todo El Mundo Piensa que Usted Ya Sabe 9
Capítulo 1: ¿Qué es Windows 7? 11
Capítulo 2: El Escritorio, el Menú Start, la Barra de Tareas, Gadgets y Otros Misterios de Windows 7 23
Capítulo 3: Mecánica Básica de Windows 57
Capítulo 4: Recorrer Archivos, Carpetas, Unidades Flash, Bibliotecas y CDs 83
Parte II: Trabajar con Programas y Archivos 113
Capítulo 5: Jugar con Programas y Documentos 115
Capítulo 6: Perdido por un Rato, Encontrado de Inmediato 137
Capítulo 7: Imprimir Su Trabajo 151
Parte III: Obtener Resultados en Internet 163
Capítulo 8: Navegar por la Web 165
Capítulo 9: Enviar y Recibir E-Mail 193
Capítulo 10: Computación Segura 221
Parte IV: Personalizar y Actualizar Windows 7 241
Capítulo 11: Personalizar Windows 7 con el Control Panel 243
Capítulo 12: Evitar que Windows se Rompa 271
Capítulo 13: Compartir Una Computadora entre Varias Personas 285
Capítulo 14: Conectar Computadoras en Red 297
Parte V: Música, Películas, Recuerdos (Y Fotos, También) 327
Capítulo 15: Reproducir y Copiar Música en Media Player 329
Capítulo 16: Jugar con Fotos y Videos 357
Parte VI: ¡Ayuda! 385
Capítulo 17: El Caso de la Ventana Rota 387
Capítulo 18: Mensajes Extraños: Lo Que Hizo No Computa 403
Capítulo 19: Pasar de una Vieja Computadora a una Nueva PC con Windows 7 415
Capítulo 20: Ayuda con el Sistema de Ayuda de Windows 7 431
Parte VII: La Parte de los Diez 439
Capítulo 21: Diez o Más Cosas Que Odiará de Windows 7 (Y Cómo Solucionarlas) 441
Capítulo 22: Más o Menos Diez Consejos para Dueños de Laptops 451
Apéndice A: Actualizar a Windows 7 459
Index 467
See More
Andy Rathbone ha escrito todas las versiones previas de Windows Para Dummies, el libro de referencia de computación más vendido de todos los tiempos. Los prácticos consejos de Andy y las instrucciones fáciles de entender han ayudado a millones de personas a utilizar Windows en sus computadoras del hogar y la oficina.
See More