Guidebook to the LEED Certification Process: For LEED for New Construction, LEED for Core & Shell, and LEED for Commercial Interiors
ISBN: 978-0-470-52418-3
Hardcover
352 pages
June 2011
US $85.00

Add to Cart
This price is valid for United States. Change location to view local pricing and availability.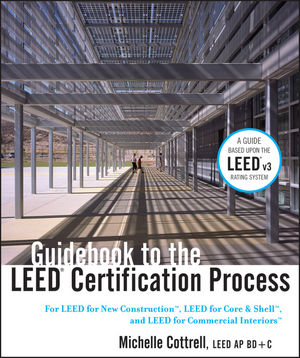 Other Available Formats:
E-book
Foreword xiii
Acknowledgments xv
Introduction xvii
PART 1: Key Concepts  1
Chapter 1 Measuring Green 3
THE LEED RATING SYSTEMS 3
THE KEY CONCEPTS OF LEED 5
OWNER'S PERSPECTIVE: Going for Gold 11
M. Christie Smith
THE LEED CERTIFICATION PROCESS 12
THE NEXT STEPS OF COORDINATING A LEED PROJECT 19
OWNER'S PERSPECTIVE: Two Questions Every Owner Must Answer for Their LEED Project 20
Chet M. Roach
Chapter 2 The Integrative Project Delivery Process 23
CONSTRUCTION MANAGER'S PERSPECTIVE: From Design to Reality 24
Bassam Tarazi
THE DIFFERENCES OF A TRADITIONAL PROJECT VERSUS AN INTEGRATIVE PROJECT DELIVERY 25
GENERAL CONTRACTOR'S PERSPECTIVE: The Importance of Integration for the Success of LEED Projects 26
Travis Hall
GENERAL CONTRACTOR'S PERSPECTIVE: Involving a Construction Manager during Design 33
Michael J. Parnell
ENGINEER'S PERSPECTIVE: Integrated Design and Collaboration 34
Robert Diemer
LEED AND IPD 35
Chapter 3 Building A Project Team 37
THE TIERS OF THE CREDENTIALING PROCESS 37
OWNER'S PERSPECTIVE: Building a LEED Team 38
Bill Stoller
WHAT IS A LEED COORDINATOR? 40
ENGINEER'S PERSPECTIVE: The LEED Challenge and the Role of Project Coordinator 41
Wayne Howell
SELECTING THE REST OF THE TEAM MEMBERS 43
PROFESSIONAL PERSPECTIVE: The Value of Certification 44
Mark Hanson
ATTORNEY'S PERSPECTIVE: The Risks of Green Building 48
Stephen T. Del Percio
THE STRUCTURAL ENGINEER 51
ENGINEER'S PERSPECTIVE: Offsetting the Costs of Energy Modeling and Commissioning 51
Paul Meyer
THE COMMISSIONING AGENT 52
COMMISSIONING AGENT'S PERSPECTIVE: Selecting a Commissioning Authority 53
Bill Lodato
THE CONTRACTOR 56
CONTRACTS 57
WASTE HAULER'S PERSPECTIVE: How LEED Has Changed the Waste Industry 58
David Cardella
COORDINATOR'S PERSPECTIVE: The LEED Coordinator: No One Understands Me! 59
 Steve Leone
Chapter 4 Site Selection 61
EDUCATION IS KEY 61
TAX CONSULTANT'S PERSPECTIVE: An Introduction to Understanding Section 179D 62
Dennis J. Stilger, Jr.
THE QUESTIONNAIRE 64
INITIAL ASSESSMENT 64
BROKER'S PERSPECTIVE: LEED-Certified Development Properties vs. Traditional Development Properties 65
Marie Taylor
ENERGY PROVIDER'S PERSPECTIVE: Power Purchase Agreements 69
RJ Donnelly
ARCHITECT'S PERSPECTIVE: Seeking LEED CI Certification for a Hotel: The Challenges and Benefits 71
Michael F. Maurer
BROKER'S PERSPECTIVE: Sustainable Design Leads to Good PR and Improved Bottom Line . . . If Tenants Can Find a Way to Care 78
Scott Steuber
CONTINUING THE EFFORT TO PREPARE FOR THE GOAL-SETTING MEETING 79
Chapter 5 The Eco-Charette 81
ARCHITECT'S PERSPECTIVE: Collaborative Design 82
Gary Moshier
PRIOR TO THE MEETING 83
CIVIL ENGINEER'S PERSPECTIVE: The Importance of Deciding to Pursue LEED Early in the Design Process 84
Geoffrey B. Nara
THE GOAL-SETTING MEETING 85
CONTRACTOR'S PERSPECTIVE: LEED Certification: Hurdles to Success 91
Holly Hawkins
OWNER'S PERSPECTIVE: The Execution of a Certified LEED NC Project 96
Mike Barbera
MOMENTUM AFTER THE ECO-CHARETTE 98
PART 2: The Design Phases  99
Chapter 6 Schematic Design and Design Development Phases  101
OWNER'S REPRESENTATIVE'S PERSPECTIVE: What LEED Credits are Right for You? 101
Chet M. Roach
FULL TIME EQUIVALENT OCCUPANTS 104
DESIGN INTEGRATION SESSIONS 104
GREEN ROOF TECHNICAL EXPERT'S PERSPECTIVE: An Overview of Green Roof Assemblies and Benefits 106
Melissa Muroff
ADDRESSING THE PREREQUISITES AND CREDITS 111
ARCHITECT'S PERSPECTIVE: Managing Passive Loads 112
Gary Moshier
LANDSCAPE ARCHITECT'S PERSPECTIVE: A Landscape Architecture Perspective on the LEED Certification Process 119
Aiman Duckworth
CIVIL ENGINEER'S PERSPECTIVE: Innovative Sustainable Civil and Site Design for a Nature Center Renovation and Expansion 122
Geoffrey B. Nara
LANDSCAPE ARCHITECT'S PERSPECTIVE: Use 3D Modeling Tools for a Quick and Accurate Measurement of Tree Shading 124
Aiman Duckworth
LIGHTING DESIGNER'S PERSPECTIVE: The Role of a Lighting Designer on a Project Seeking LEED Certification 128
Faith E. Baum
LANDSCAPE ARCHITECT'S PERSPECTIVE: Educate Yourself, the Contractor, the Owner, and Landscape Maintenance Staff about the Project's Planting and Irrigation Approach 133
Aiman Duckworth
ARCHITECT'S PERSPECTIVE: Mechanical and Architectural Coordination for Energy Efficiency 137
Nathan Ogle
COMMISSIONING AGENT'S PERSPECTIVE: The Benefits of a Commissioning Agent 139
Brian Fronapfel
MEP ENGINEER'S PERSPECTIVE: The Benefits of the OPR and BOD 141
Kent D. Hoffman
MEP ENGINEER'S PERSPECTIVE: EA CREDIT 1: Optimize Energy Performance Compliance Paths 148
William Amann
MEP ENGINEER'S PERSPECTIVE: Refrigeration Compliance for LEED 151
Christopher F. Zabaneh
MEP ENGINEER'S PERSPECTIVE: Engaging an Engineer 153
Kurt A. Scheer
MEP ENGINEER'S PERSPECTIVE: Measurement and Verification for Large-Energy-User Projects 155
Wayne Howell
ARCHITECT'S PERSPECTIVE: The National Audubon Society: Selecting Environmentally Sensitive Materials 158
Guy Geier
RAISED-ACCESS FLOOR MANUFACTURER'S PERSPECTIVE: Under-Floor Air Distribution System Contributions to LEED Certification 168
Scott Alwine
LIGHTING DESIGNER'S PERSPECTIVE: Benefits of Computer Daylight Simulation 172
Magdalena L. DiDomenico
PRELIMINARY SPECIFICATION REVIEW 173
ARCHITECT'S PERSPECTIVE: N20-HDR-CUH2A's New Second Office 174
Simon Trumble and Jorge Rodriguez
IN SUMMARY 177
Chapter 7 Construction Document Phase  179
GREEN ROOF TECHNICAL EXPERT'S PERSPECTIVE: Quality Assurance of a Green Roof 179
Melissa Muroff
COMMISSIONING 181
MEP ENGINEER'S PERSPECTIVE: Energy Modeling Pitfalls 182
Aaron Dahlstrom
WHOLE-BUILDING SIMULATION 184
SPECIFICATION AND PLAN REVIEW 185
LANDSCAPE ARCHITECT'S PERSPECTIVE: Design Water as One System 188
Aiman Duckworth
LEED-ONLINE DOCUMENTATION REVIEW 192
GBCI REVIEWER'S PERSPECTIVE: Top Five Tips for Submitting a LEED Project to GBCI 195
Martin Mechtenberg
MANUFACTURER'S PERSPECTIVE: A Manufacturer as an Owner Pursuing LEED 202
Julie Smith
NEXT STEPS 205
ENGINEER'S PERSPECTIVE: Experiences of Gaining LEED Certification 207
Scott Bowman
PART 3: The Construction Phase 209
Chapter 8 Coordination with the Construction Team  211
BID REVIEW 212
GENERAL CONTRACTOR'S PERSPECTIVE: Compliancy with LEED during Construction 213
Easy Foster
TRAINING THE CONSTRUCTION TEAM 214
OWNER'S PERSPECTIVE: The Importance of Collaboration 216
David Anderson
THE LEED IMPLEMENTATION PLAN 218
WASTE CONSULTANT'S PERSPECTIVE: Construction Waste Recycling: Where the Real World Meets LEED 219
Wayne DeFeo
TASKS DURING CONSTRUCTION 221
GENERAL CONTRACTOR'S PERSPECTIVE: LEED during Construction 223
Michael J. Parnell
Chapter 9 Monthly Reports 225
MATERIAL TRACKING: GETTING STARTED 225
OWNER'S PERSPECTIVE: Procurement Strategies 227
Steve Martorana
MANUFACTURER'S PERSPECTIVE: A Manufacturer's Approach to LEED 230
Melissa DeSota
SALVAGED MATERIAL BROKER'S PERSPECTIVE: Overcoming the Challenges of MR Credit 3: Materials Reuse 233
Nathan Benjamin
CONSTRUCTION WASTE MANAGEMENT 241
CONSTRUCTION INDOOR AIR QUALITY: COMPLYING WITH SMACNA REQUIREMENTS 242
MONTHLY REPORTS 244
OWNER'S PERSPECTIVE: Pursuing LEED Certification 245
Charley Ryan
Chapter 10 Construction Completion  249
TASKS AFTER SUBSTANTIAL COMPLETION 250
PRE-CLOSEOUT MEETING 251
COMMISSIONING ACTIVITIES 251
EDUCATING THE BUILDING OCCUPANTS 252
TRAINING THE OPERATIONS AND MAINTENANCE STAFF 253
LEED ONLINE: DOCUMENTATION REVIEW 256
RECS PROVIDER PERSPECTIVE: EA CREDIT 6: Green Power—Some Common Misconceptions 258
John Powers
SUBMIT FOR USGBC CONSTRUCTION REVIEW 262
ARCHTECT'S PERSPECTIVE: Staying High Performance: Sustaining the Sustainability of Buildings
Michael B. Lehrer
LEED AFTER OCCUPANCY? OR OCCUPANCY AFTER LEED? 267
Appendices 269
APPENDIX A: LEED RATING SYSTEM SCORECARDS 269
APPENDIX B: PREDESIGN SITE SELECTION CHECKLIST 273
APPENDIX C: PROJECT TEAM MEMBER ROLES AND DOCUMENTATION RESPONSIBILITIES 275
APPENDIX D: DESIGN VERSUS CONSTRUCTION PREREQUISITES AND CHECKLISTS 281
APPENDIX E: OWNER'S PROJECT REQUIREMENTS TEMPLATE AND BASIS OF DESIGN SAMPLE 295
APPENDIX F: SAMPLE CONSTRUCTION IAQ MANAGEMENT PLAN 305
APPENDIX G: CONSTRUCTION MONITORING AND REPORTING FORMS 311
Endnotes 319
Index 321