Textbook
The Wine, Beer, and Spirits Handbook: A Guide to Styles and Service, (Unbranded)
ISBN: 978-0-470-52429-9
528 pages
April 2009, ©2010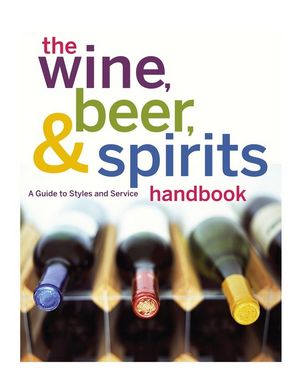 This book demystifies wine and the wine making process by approaching this often intimidating subject from a varietal and wine style perspective. Beer and spirits are also covered in this unique handbook. Each chapter includes food and wine, beer, and spirits pairings and how different food flavors and beverages interact. Starting with a look at how wines are made, how to taste wine, and how wines interact with food, the book then moves through the different types of grapes, where they are grown, and the types of wines that are made with them. Designed for beverage managers, chefs, and sommeliers, this handbook covers the science, art, and business of wine.
See More
Preface.
PART ONE: Introduction to Wine.
1 What Makes Wines Taste Different?
2 How Wine Is Made.
3 The Science of Wine Tasting.
4 Wine Storage and Service.
5 Food and Wine Pairing.
6 The Health Aspects of Alcohol.
PART TWO: Wines from International Grapes.
7 Chardonnay.
8 Pinot Noir.
9 Cabernet Sauvignon.
10 Merlot.
11 Sauvignon Blanc.
12 Riesling.
13 Syrah/Shiraz.
14 Grenache/Garnacha.
PART THREE: Wines from White Grapes.
15 The Aromatics.
16 Light and Crisp White Wines.
17 Fat and Full.
PART FOUR: Wines from Black Grapes.
18 Light and Fresh.
19 Soft and Juicy.
20 Full and Tannic.
21 Rich and Spicy.
PART FIVE: Sparkling and Fortifi ed Wines.
22 Sparkling Wines and How They Are Made.
23 Fortifi ed Wines.
24 Sparkling and Fortifi ed Wine Service.
PART SIX: Beer, Spirits, and Liqueurs.
25 Beer.
26 How Spirits and Liqueurs Are Made.
27 Fruit-Based Spirits.
28 Grain-based Spirits.
29 Vegetable-Based Spirits.
PART SEVEN: The Role of the Sommelier.
30 In the Dining Room.
31 Wine List Creation and Menu Matching.
32 Cellar Management and Product Research.
33 Understanding Wine Faults.
Appendices.
Appendix A: Maps.
Appendix B: Label Terminology.
Appendix C: Legislation.
Glossary.
Bibliography.
Index.
See More
Integrated approach to wine, beer, and spirits

Covers the business of wine service

Includes coverage of management tasks such as inventory control, pricing, menu matching, and storage

Strong emphasis on food and wine pairing as a stand alone topic and includes how grape varietals and wine styles interact with food

Covers wine, beer, and spirits

Provides understanding of the health and legal implications of wine consumption

Discusses wine & beverage service and sommelier responsibilities

Extensive appendices cover how to read a wine label, wine & alcohol legislations, and maps of wine regions

Detailed glossary and bibliography
See More
Instructors Resources
Request a print evaluation copy
Contact us

Contact your Wiley Representative
Find Your Rep

See More
See Less
Learn more about