CEH Certified Ethical Hacker Study Guide
ISBN: 978-0-470-52520-3
432 pages
April 2010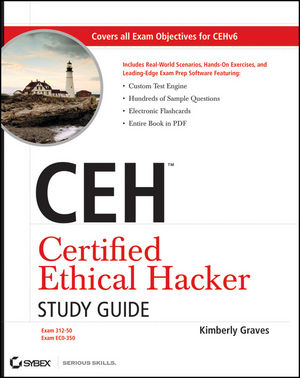 Full Coverage of All Exam Objectives for the CEH Exams 312-50 and EC0-350
Thoroughly prepare for the challenging CEH Certified Ethical Hackers exam with this comprehensive study guide. The book provides full coverage of exam topics, real-world examples, and includes a CD with chapter review questions, two full-length practice exams, electronic flashcards, a glossary of key terms, and the entire book in a searchable pdf e-book.
What's Inside:
Covers ethics and legal issues, footprinting, scanning, enumeration, system hacking, trojans and backdoors, sniffers, denial of service, social engineering, session hijacking, hacking Web servers, Web application vulnerabilities, and more
Walks you through exam topics and includes plenty of real-world scenarios to help reinforce concepts
Includes a CD with an assessment test, review questions, practice exams, electronic flashcards, and the entire book in a searchable pdf
See More
1 Introduction to Ethical Hacking, Ethics, and Legality.
2 Gathering Target Information: Reconnaissance, Footprinting, and Social Engineering.
3 Gathering Network and Host Information: Scanning and Enumeration.
4 System Hacking: Password Cracking, Escalating Privileges, and Hiding Files.
5 Installing Software on Target Systems: Spyware, Trojans, Backdoors, Viruses, and Worms.
6 Gathering Data from Networks: Sniffers.
7 Denial of Service and Session Hijacking.
8 Web Hacking: Google, Web Servers, Web Application Vulnerabilities, and Web-Based Password Cracking Techniques.
9 Attacking Applications: SQL Injection and Buffer Overflows.
10 Wireless Network Hacking.
11 Physical Site Security.
12 Hacking Linux Systems.
13 Bypassing Network Security: Evading IDS, Honeypots, and Firewalls.
14 Understanding Cryptography.
15 Performing a Penetration Test.
See More
Kimberly Graves, CEH, CWSP, CWNP, CWNA, has over 15 years of IT experience. She is founder of Techsource Network Solutions, a network and security consulting organization located in the Washington, DC area. She has served as subject matter expert for several certification programs-including the Certified Wireless Network Professional (CWNP) and Intel Certified Network Engineer programs-and has developed course materials for the Department of Veteran Affairs, USAF, and the NSA.
See More
Learn more about