Beginning JavaScript, 4th Edition
ISBN: 978-0-470-52593-7
792 pages
October 2009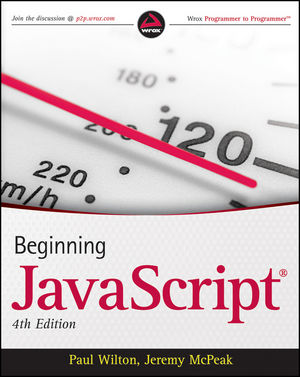 The perennial bestseller returns with new details for using the latest tools and techniques available with JavaScript
JavaScript is the definitive language for making the Web a dynamic, rich, interactive medium. This guide to JavaScript builds on the success of previous editions and introduces you to many new advances in JavaScript development. The reorganization of the chapters helps streamline your learning process while new examples provide you with updated JavaScript programming techniques.
You'll get all-new coverage of Ajax for remote scripting, JavaScript frameworks, JavaScript and XML, and the latest features in modern Web browsers. Plus, all the featured code has been updated to ensure compliance with the most recent popular Web browsers.
Introduces you to the latest capabilities of JavaScript, the definitive language for developing dynamic, rich, interactive Web sites
Features new coverage of data types and variables, JavaScript and XML, Ajax for remote scripting, and popular JavaScript frameworks
Offers updated code that ensures compliance with the most popular Web browsers
Includes improved examples on the most up-to-date JavaScript programming techniques
Continuing in the superlative tradition of the first three editions, Beginning JavaScript, Fourth Edition, gets you up to speed on all the new advances in JavaScript development.
See More
Introduction.
Chapter 1: Introduction to JavaScript and the Web.
Chapter 2: Data Types and Variables.
Chapter 3: Decisions, Loops, and Functions.
Chapter 4: Common Mistakes, Debugging, and Error Handling.
Chapter 5: JavaScript — An Object-Based Language.
Chapter 6: Programming the Browser.
Chapter 7: HTML Forms: Interacting with the User.
Chapter 8: Windows and Frames.
Chapter 9: String Manipulation.
Chapter 10: Date, Time, and Timers.
Chapter 11: Storing Information: Cookies.
Chapter 12: Dynamic HTML and the W3C Document Object Model.
Chapter 13: Using ActiveX and Plug-Ins with JavaScript.
Chapter 14: Ajax.
Chapter 15: JavaScript Frameworks.
Appendix A: Answers to Exercises.
Appendix B: JavaScript Core Reference.
Appendix C: W3C DOM Reference.
Appendix D: Latin-1 Character Set.
Index.
See More
Paul Wilton
owns his own company, providing online booking systems to vacation property owners, which is largely developed using JavaScript.
Jeremy McPeak is a self-taught programmer who began his career by tinkering with web sites in 1998. He is the coauthor of Professional Ajax, 2nd Edition and several online articles covering topics such as XSLT, ASP.NET Web Forms, and C#. He is currently employed at an energy-based company building in-house conventional and web applications.
See More
Do you think you've discovered an error in this book? Please check the list of errata below to see if we've already addressed the error. If not, please submit the error via our Errata Form. We will attempt to verify your error; if you're right, we will post a correction below.
Chapter
Page
Details
Date
Print Run
7-8
Error in Text
The heading ?Linking to an External JavaScript File? and ?Advantages of using an External File? should come after ?Try it out: Painting the Page Red.?
10/11/2010
14-end
Error in Code
All instances of &ltbr&gt should be &ltbr /&gt to be fully XHTML compliant.
10/14/2010
24
Error in Code
Use of script language JavaScript is deprecated, language is no longer a valid value.

Use: script type javascript instead.
10/11/2010
26
Error in Text
First sentence: ?Now that you?ve seen how to cope with errors,? should be stricken. Error handling is covered in depth in Chapter 4.
10/11/2010
34 & 35
Error in Text
References to Chapter 4 should be Chapter 5 (i.e.) "However in Chapter 4 you'll be looking at the Math object...."
10/11/2010
See More
Buy Both and Save 25%!
Beginning JavaScript, 4th Edition (US $39.99)
-and- Teach Yourself VISUALLY Adobe Muse (US $29.99)
Total List Price: US $69.98
Discounted Price: US $52.48 (Save: US $17.50)
Cannot be combined with any other offers. Learn more.
Learn more about