E-book
Consumer Behavior For Dummies
ISBN: 978-0-470-52639-2
384 pages
April 2009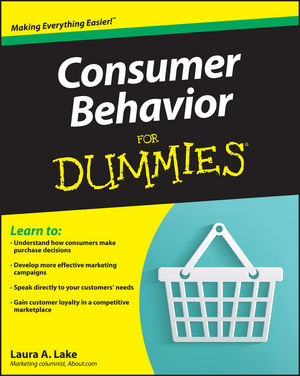 Learn to:
Understand how consumers make purchase decisions
Develop more effective marketing campaigns
Speak directly to your customers' needs
Gain customer loyalty in a competitive marketplace
Get into the minds of consumers and increase your revenue!
Want to better understand why consumers think and act the way they do? This practical guide gives you the tools to identify the influences that affect their purchasing behavior. It also shows you how to apply that knowledge as you develop a marketing strategy that speaks directly to their needs. You'll see how to capture their attention, motivate them to purchase your products and services, earn their loyalty, and much more.
Why do they buy? — understand the decision-making process consumers go through when considering a purchase
Apply behavior to marketing — learn the 4Ps of marketing and how consumer behavior plays a role in each
Gain a deeper understanding of the individual consumer — gauge a consumer's motivation, emotions, perception, and attitude and use them to predict and change buying intentions
Explore external influences on customers — from cultures to family life cycles to household structures and social groups, see how purchasing patterns are affected
Craft your marketing strategy — use consumer knowledge to delve into market research, identify key segments, and launch into untapped markets
Implement your plan — create powerful positioning strategies and reach customers where they're at with a message that motivates them
Open the book and find:
Actionable, real-world insight and advice
Tips to help you lead consumers from attention to action
Research techniques and marketing tips
How self-concepts and lifestyle change consumer behavior
Methods for cultivating repeat business and loyalty
Ways to protect against consumer misbehavior
Advice on encouraging new product adoption
Ten ways to enhance customer satisfaction
See More
Introduction.
Part I: Introduction to Consumer Behavior.
Chapter 1: Consumer Behavior: The Basics.
Chapter 2: Understanding How Consumers Make Purchase Decisions.
Chapter 3: Applying Consumer Behavior to Marketing Strategy.
Part II: Delving Into the Psychology of the Individual Consumer.
Chapter 4: Recognizing Need and Desire: Motivation and Emotion.
Chapter 5: Supplying Information and Infl uencing Perception.
Chapter 6: Uncovering Attitudes: General and Lasting Evaluations.
Chapter 7: Defi ning the Role of Identity: Self-Concepts and Lifestyle.
Part III: Consumers in Their Social and Cultural Settings.
Chapter 8: Cultural Influences.
Chapter 9: The Infl uences of Household Structure and Role.
Chapter 10: The Power of the Masses: Group Influences.
Chapter 11: Defying Legislated or Moral Laws: Consumer Misbehavior.
Part IV: Crafting Your Marketing Strategy.
Chapter 12: Conducting Market Research.
Chapter 13: Identifying Target Markets through Segmentation.
Chapter 14: Unearthing New Market Opportunities.
Part V: Implementing Your Strategy with a Marketing Plan.
Chapter 15: Understanding Marketing Ethics.
Chapter 16: Evoking Awareness through Positioning.
Chapter 17: Leading Customers from Attention to Action.
Chapter 18: Convincing Consumers to Adopt New Products or Changes in Terms.
Chapter 19: Cultivating Customer Loyalty.
Part VI: The Part of Tens.
Chapter 20: Ten Easy Ways to Enhance Customer Satisfaction.
Chapter 21: Ten Special Considerations for Business-to-Business Marketing.
Appendix: Glossary.
Index.
See More
Laura A. Lake has been involved in the marketing industry since 1997. She has worked with many companies, assisting them in understanding consumer behavior and the management and implementation of the findings within. In 2008, Lake founded her own successful marketing agency and sales training company.
See More