E-book
Acrylic Painting For Dummies
ISBN: 978-0-470-52648-4
320 pages
January 2011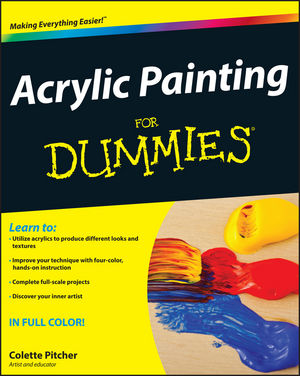 Create gorgeous paintings with this fun and easy guide to acrylics!
Always wanted to paint with acrylics? This easy-to-follow, full color guide gives you expert instruction and simple exercises in acrylic painting techniques and styles. The step-by-step projects let you practice your skill and stir your imagination — and give you the foundation to create similar projects with your own subjects and surfaces!
Get your feet (and brushes) wet — assemble your materials, prepare your surfaces, and sort out additives and enhancers

Try out basic acrylic techniques — work with brush strokes, control and thin your paint, experiment with textures, and use stencils

Practice design and composition principles — mix and use color, balance elements, make changes, and pull your painting together

Imitate several kinds of styles — use acrylic paint to mimic the effects of watercolor and oil paints

Build your repertoire — explore texture and dimension, work with glass, rocks, bricks, metalwork, and more
Open the book and find:
Clear step-by-step instructions with illustrations

A variety of projects and styles to suit all tastes

Quick tricks and techniques to get started painting right away

Lots of colorful paintings to inspire creativity

Helpful hints for improving your drawing skills

Full-scale projects at the end of most chapters

Exercises to jump-start your artistic passion
See More
Introduction.
Part I: Getting Acquainted with Acrylics.
Chapter 1: Acrylics Are Awesome!
Chapter 2: Setting Up Supplies: Brushes, Surfaces, and Palettes.
Chapter 3: All About Paints and Mediums.
Part II: Exploring Tricks and Techniques.
Chapter 4: Basic Painting and Finishing Techniques.
Chapter 5: Building Your Repertoire with Quick Tricks and Techniques.
Chapter 6: Drawn to Paint — Even if Your Drawing Skills Need Work.
Part III: Finding the Fun in Fundamentals.
Chapter 7: Taking a Quick Color Tour.
Chapter 8: Design of the Times: Design Elements and Principle.
Chapter 9: Putting the Pieces Together: Composition.
Part IV: Acrylic's Versatile Styles.
Chapter 10: Letting It Flow: Creating a Watercolor-like Landscape.
Chapter 11: Laying It On Thick: Painting Like the Oil Masters.
Chapter 12: Thinking and Painting Abstractly.
Part V: Projects for Different Surfaces.
Chapter 13: Creating Collages and Transfer.
Chapter 14: Cool Projects for All Types of Surfaces.
Part VI: The Part of Tens.
Chapter 15: Ten (Plus One) Genres: Figuring Out What You Want to Paint.
Chapter 16: Ten Ways to Get the Creative Juices Flowing.
Index.
See More
Colette Pitcher is a painter and sculptor who exhibits her artwork throughout the country. She is the owner of the Showcase Art Center in Greeley, Colorado, where she offers adult instruction in numerous painting mediums. Pitcher is also the author of Watercolor Painting For Dummies and is a contributor to PaintWorks magazine.
See More