Windows Live Essentials and Services: Using Free Microsoft Applications for Windows 7
ISBN: 978-0-470-52687-3
336 pages
September 2009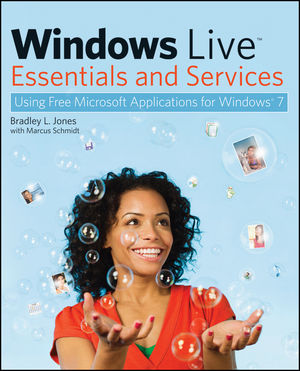 A full-color, step-by-step guide for using the most popular free software and online offerings from Microsoft's new Windows Live Essentials
Microsoft's new operating system – Windows 7 – isn't including many applications you might be used to seeing. Instead, those applications are being made available as set of free downloads called Windows Live Essentials, with the promise of more frequent updates independent of when the operating system releases happen. Windows Live Essentials includes tools such as Messenger, Mail, Writer, Photo Gallery, and Movie Maker. This valuable guide shows you how to use these applications so that you accomplish everyday tasks successfully and smartly.
Step-by-step instructions show you how to use not only these applications, but also associated Windows Live on-line services. As an example, you'll learn just how easy it is to create panoramic pictures in seconds or how to create movies from pictures in just a few minutes. Then you'll get the inside scoop on how to communicate and share using Messenger, SkyDrive, Spaces, and Groups.
Windows Live Essentials are available as free downloads for the Windows 7, Windows Vista, and Windows XP operating systems
Reviews what is included Windows Live products such as Messenger, Mail, Writer, Photo Gallery, Movie Maker as well as Windows Live services like Spaces, Groups, SkyDrive, Calendar, and Events
Provides you with essential information on using the applications and services efficiently in order to accomplish everyday tasks.
With this book, you'll quickly be on your way to accessing these useful applications in an effort to making your life easier.
See More
Introduction.
Chapter 1 What Are Windows Live Essentials?
Chapter 2 Instant Messaging with Windows Live Messenger.
Chapter 3 Emailing with Windows Live Mail.
Chapter 4 Blogging and Writing with Windows Live Writer.
Chapter 5 Managing Pictures with Windows Live Photo Gallery.
Chapter 6 Creating Movies with Movie Maker.
Chapter 7 Organizing with Windows Live Calendar.
Chapter 8 Socializing with Windows Live Spaces.
Chapter 9 Interacting with Windows Live Groups.
Chapter 10 Storing Things Online with SkyDrive.
Index.
See More
Bradley Jones
is site manager for various high-profile Web sites, including Flashkit, HTMLGoodies, Codeguru, and Developer.com. He is active online — blogging, tweeting, and generally interacting with others around the world — as well as offline, writing books and running a Microsoft-related user group. He has been recognized and given the Microsoft MVP award for the last five years. He is the author of over a dozen books including
Teach Yourself the C# Language
,
Alan Simpson's Windows Vista Bible, Desktop Edition
, and
Web 2.0 Heroes
.
Marcus Schmidt is a member of the Windows Live team at Microsoft.
See More