CCNA Wireless Study Guide: IUWNE Exam 640-721
ISBN: 978-0-470-52765-8
552 pages
July 2010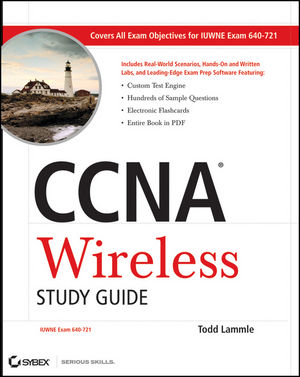 A complete guide to the CCNA Wireless exam by leading networking authority Todd Lammle
The CCNA Wireless certification is the most respected entry-level certification in this rapidly growing field. Todd Lammle is the undisputed authority on networking, and this book focuses exclusively on the skills covered in this Cisco certification exam.
The CCNA Wireless Study Guide joins the popular Sybex study guide family and helps network administrators advance their careers with a highly desirable certification.
The CCNA Wireless certification is the most respected entry-level wireless certification for system administrators looking to advance their careers
Written by Todd Lammle, the leading networking guru and author of numerous bestselling certification guides
Provides in-depth coverage of every exam objective and the technology developed by Cisco for wireless networking
Covers WLAN fundamentals, installing a basic Cisco wireless LAN and wireless clients, and implementing WLAN security
Explains the operation of basic WCS, basic WLAN maintenance, and troubleshooting
Companion CD includes the Sybex Test Engine, flashcards, and entire book in PDF format
Includes hands-on labs, end-of-chapter review questions, Exam Essentials overview, Real World Scenarios, and a tear-out objective map showing where each exam objective is covered
The CCNA Wireless Study Guide prepares any network administrator for exam success.
Note: CD-ROM/DVD and other supplementary materials are not included as part of eBook file.
See More
Chapter 1 Wireless Networks And Topologies.
Chapter 2 Wlan Rf Fundamentals.
Chapter 3 Spread Spectr.
Chapter 4 Wireless Regulation Bodies, Standards, And Certifications.
Chapter 5 Introduction To Wireless Security.
Chapter 6 Wireless Clients And Cisco Extension (CCX).
Chapter 7 Introduction To The Cisco Unified Wireless Network (CUWN).
Chapter 8 Introduction To The Cisco Mobility Express Wireless Architecture.
Chapter 9 Installing The Cisco Unified Wireless Network (CUWN).
Chapter 10 Configuring Wireless Security On The CUWN.
Chapter 11 Wireless Control System (WCS).
Chapter 12 WLAN Maintenance And Troubleshooting.
See More
Do you think you've discovered an error in this book? Please check the list of errata below to see if we've already addressed the error. If not, please submit the error via our Errata Form. We will attempt to verify your error; if you're right, we will post a correction below.
Chapter
Page
Details
Date
Print Run
1
14
Text correction: Misidentified WGB
Last paragraph, second sentence: "The uWGB will establish..." should read:
"The aWGB will establish..."
7/29
1st
1
34
Text correction: Errors in Review Question 1. and options
Review Question 1., "Which is true regarding uWGB's?" should read "Which is true regarding aWGB's?"

Options A. and B. should refer to aWGB and not uWGB.

The answer and explanation are correct following these changes.
7/29
1st
1
34
Text correction: Error in Review Question 2.
Review Question 2., "Which is true regarding aWGB's? should read: "Which is true regarding uWGB's?"

Options C. and D. should refer to uWGB and not aWGB.
7/29
1st
1
38
Misidentified WGBs in Answers to Review Questions 1. and 2.
The explanation for the answer to Review Question 1. should read "This question is about autonomous,..."

The explanation for the answer to Review Question 2. should read "This question is about universal,..."
2/14/12
1st and 2nd
11
398
Text correction: Misidentified image file type
In the sidebar titled Adding an Image to Your Configuration, the second sentence contains an error.

"The image file can be a JPEG, GIF, BMP, or PNG file." should read:

"The image file can be a JPEG, JPG, GIF, or PNG file."
11/16/10
1st and 2nd
11
413
Text correction: Error in Chapter 11 Exam Essentials
The first Item under Exam Essentials, "Know how to add a WLS to the WLC..." should read:
"Know how to add a WLC to the WCS..."
11/16/10
1st and 2nd
11
413
Text correction: Misidentified image file type in Chapter 11 Exam Essentials
In the third item in the list, BMP is incorrectly identified as an allowable type of image file. The list of file types should read "?GIF, JPEG, JPG, and PNG.?
11/16/10
1st and 2nd
See More
Learn more about