E-book
Shiny Objects Marketing: Using Simple Human Instincts to Make Your Brand Irresistible
ISBN: 978-0-470-52772-6
224 pages
April 2009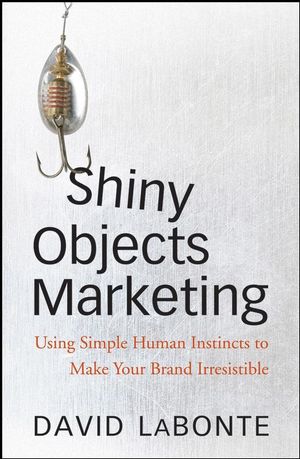 "
Shiny Objects Marketing
has given us a dramatic new insight into what our customers want and how to make our service a shiny object."
–
Michael Purcell
, Senior Vice President, Product Development, Global Cash Card
"Shiny Objects Marketing is a very simple and easy-to-understand approach to attracting customers."
–Catherine Monson, President, PIP Printing
"Based on a very simple characteristic that most creatures on this planet have in common-attraction to shiny objects-LaBonte lays out a commonsense approach that can turn any product or service into a massive success. Once a person understands the power and influence of shiny objects, their marketing will never be the same."
–Marc Anthony, President, Black Dot Wireless
"In this world of mind-numbing marketing theories, Shiny Objects Marketing stands out as something truly refreshing. It makes absolute sense and actually works for any product or service."
–Donald Disbro, Vice President, New Business Development and Marketing, Professional Community Management
See More
About the Author
.
Preface.
What's the Big Deal?
Chapter 1: What Can You Expect from This Book?
Chapter 2: Origins of Shiny Objects.
Chapter 3: Why Are We Attracted to Shiny Objects?
Chapter 4: Shiny Objects in Our Lives.
Chapter 5: Traditional Persuasion Theory versus Shiny Objects.
Chapter 6: Shiny Object Quadrants.
Chapter 7: Five Facets of Shiny Objects.
Chapter 8: Brands as Shiny Objects.
Chapter 9: What Gets in the Way of Shiny Objects?
Chapter 10. In a Room Full of Shiny Objects, How Do You Get Yours Noticed?
Chapter 11. Now What?
References.
Index.
See More
David LaBonte
is President and owner of Ad Matrix, a California-based marketing and advertising agency. He has more than thirty years of experience in marketing, advertising, and branding, and has worked on such widely known brands as Fantastic Sams, Intel, Mitsubishi, Texas Instruments, MADD, GE/Sanyo, Crystal Geyser, Sunkist, and Motorola.
To request a speaking engagement with Mr. LaBonte or for more information on Shiny Objects Marketing Workshops, go to www.shinyobjectsmarketing.com
See More