Water and Sanitation Related Diseases and the Environment: Challenges, Interventions and Preventive Measures
ISBN: 978-0-470-52785-6
560 pages
October 2011, Wiley-Blackwell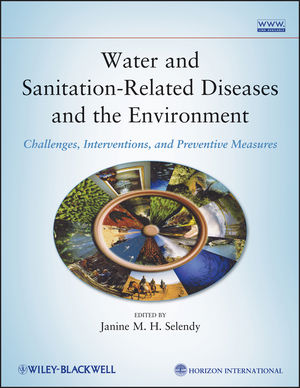 Written by authorities from various related specialties, this book presents the most complete treatment possible of the conditions responsible for water- and sanitation-related diseases, the pathogens and their biology, morbidity and mortality resulting from lack of safe water and sanitation, distribution of these diseases, and the conditions that must be met to reduce or eradicate them. Preventive measures and solutions are presented throughout. This book is an essential resource for all graduate students, postdoctoral scholars, and professionals in infectious disease, public health and medicine, chemical and environmental engineering, and international affairs.
Key features:
Provides a comprehensive understanding of the interconnection among many factors related to water-related diseases, sanitation and hygiene
Brings together experts from various specialties to address each area covered and to assist in bringing about the understanding of those interconnections
Provides examples of successful interventions with knowledge about how they were brought about so that information can be use to replicate the initiative in full or in part
Provides an appreciation of the concerns and solutions addressed from an international perspective with high and low technological solutions
Provides insight into the international dimension of these concerns and how they can be best addressed
Four hours of accompanying multimedia DVD on two discs
Learn more about this title and share information with colleagues and friends using this three-page flier: http://www.solutions-site.org/dvd/insert.pdf
See More
PREFACE ix
CONTRIBUTORS xi
INTRODUCTION xv
Janine M. H. Selendy and Jens Aargaard-Hansen
SECTION I DEFINING THE PROBLEM 1
1 Tackling the Water Crisis: A Continuing Need to Address Spatial and Social Equity 3
Jay Graham
2 Sanitation and Hygiene: Taking Stock After Three Decades 17
Jay Graham
3 Water and Health: The Demographic Background 29
Robert Wyman
4 Water and War: Averting Armed Conflict and Protecting Human Rights 41
Barry S. Levy and Victor W. Sidel
SECTION II WATER AND SANITATION-RELATED DISEASES 45
5 Infectious Diarrhea 47
Sean Fitzwater, Aruna Chandran, Margaret Kosek, and Mathuram Santosham
6 Malnutrition and Undernutrition 71
Jeffrey K. Griffiths
7 Soil-Transmitted Helminths: Ascaris, Trichuris, and Hookworm Infections 81
Brian G. Blackburn and Michele Barry
8 Toxic Cyanobacteria 95
Ian Stewart, Wayne W. Carmichael, and Lorraine C. Backer
9 Dengue: A Water-Borne Disease 111
Scott B. Halstead
10 Dracunculiasis (Guinea Worm Disease): Case Study of the Effort to Eradicate Guinea Worm 125
Donald R. Hopkins and Ernesto Ruiz-Tiben
11 Onchocerciasis 133
Adrian Hopkins and Boakye A. Boatin
12 Reassessing Multiple-Intervention Malaria Control Programs of the Past: Lessons for the Design of Contemporary Interventions 151
Burton H. Singer and Marcia C. Castro
13 Schistosomiasis 167
Pascal Magnussen, Birgitte Jyding Vennervald, and Jens Aagaard-Hansen
14 Trachoma 175
Joseph A. Cook and Silvio P. Mariotti
15 Shigellosis 187
Michael L. Bennish and M. John Albert
16 The Zimbabwe Cholera Epidemic of 2008–2009 205
Edward Dodge
17 Infectious Disease Control in Ghana: Government's Interventions and Challenges to Malaria Eradication 211
Julius N. Fobil, Juergen May, and Alexander Kraemer
SECTION III WATER RESOURCES 217
18 Household Water Treatment and Safe Storage in Low-Income Countries 219
Thomas F. Clasen
19 Informal Small-Scale Water Services in Developing Countries: The Business of Water for Those without Formal Municipal Connections 231
Laura Sima and Menachem Elimelech
SECTION IV SANITATION AND HYGIENE 241
20 The Sanitation Challenge in India 243
Bindeshwar Pathak
21 Successful Sanitation Projects in Thailand, Malaysia, and Singapore 251
Jay P. Graham
22 Household-Centered Environmental Sanitation Systems 257
Bindeshwar Pathak
SECTION V ENVIRONMENTAL FACTORS OF WATER POLLUTION 269
23 Naturally Occurring Water Pollutants 271
Lorraine C. Backer, Jonathan K. Kish, Helena M. Solo-Gabriele, and Lora E. Fleming
24 Anthropogenic Sources of Water Pollution: Parts 1 and 2 289
Kerry L. Shannon, Robert S. Lawrence, and M. Danielle McDonald
25 The Hudson River: A Case Study of PCB Contamination 303
David O. Carpenter and Gretchen Welfinger-Smith
26 Other Water Pollutants: Antibiotic-Resistant Bacteria 329
Amy R. Sapkota
SECTION VI CURRENT AND FUTURE TRENDS IN PREVENTING WATER POLLUTION 337
27 Controlling Water Pollutants 339
Jeffery A. Foran
28 Global Substitution of Mercury-Based Medical Devices in the Health Sector 351
Joshua Karliner and Peter Orris
29 Addressing Sources of PCBs and Other Chemical Pollutants in Water 359
Gretchen Welfinger-Smith and David O. Carpenter
30 Additional Measures to Prevent, Ameliorate, and Reduce Water Pollution and Related Water Diseases: Global Water Governance 385
Nikhil Chandavarkar
SECTION VII EMERGING ISSUES IN ECOLOGY, ENVIRONMENT, AND DISEASE 389
31 Changing Geographic Distribution of Disease Vectors 391
Mary E. Wilson
32 Malaria in the Brazilian Amazon 401
Marcia C. Castro and Burton H. Singer
33 Ecosystem Services, Water Resource Development, and Human Infectious Disease 421
Uriel N. Safriel
34 Ocean Pollution: Health and Environmental Impacts of Brominated Flame Retardants 439
Susan D. Shaw and Kurunthachalam Kannan
SECTION VIII CONCLUSION 461
35 Assessment of Progress in Meeting the UN Millennium Development Goals 463
Gretchen Loeffler Peltier, Unni Krishnan Karunakara, and Anson Elisabeth Wright
36 Extending the Right to Health Care and Improving Child Survival in Mexico 475
Julio Frenk and Octavio Gomez-Dantes
37 Using Kinship Structures in Health Programming—An Example of Preventive Measures and Successful Interventions 481
Moses N. Katabarwa
INDEX 485
See More
"All of them, in particular those who were used to externalize health effects from their approaches, will significantly benefit from this well documented book, that provides the reader an information-rich and structured view on the water-environmental health nexus."  (International Journal of Environment and pollution, 1 November 2012)
"This comprehensive book advises treatment of conditions responsible for water and sanitation-related diseases . . . Few books could claim a title as broad and embracing as this one. It posits a way forward for the cornerstone for global development. It is a primer for organizations as diverse as the World Bank, the United Nations, and the U.S. Agency for International Development. However sobering, it is worth any concerned person's time."  (Doody's, 16 November 2012)
"…it is wonderful how much you have included and how valuable this should be to people working in so many disciplines. And I loved your DVDs---great stories and well produced.  Most of all, I think people all over the world will be able to relate to them."
            David Ellis, Ph.D., President Emeritus, Museum of Science, Boston
"This is a truly interdisciplinary book and reflects really well the need to work across scientific boundaries, and I think shows what can be achieved through collaboration."  (Society for General Microbiology, 15 May 2012)
"This book will promote integrated studies/research on water, sanitation-related diseases and the environment and will contribute to theoretical and practical respects of interventions and preventive measures, and therefore lead to a better life quality - for millions." (Yaqian Zhao, 2011 Centre for Water Resources Research, University College Dublin , 1 December 2011)
"Written by experts from the fields of public health, medicine, epidemiology, environmental health, climate change, environmental engineering, and population research, this authoritative volume provides a thorough understanding of the interconnection among many factors linked to water related diseases, sanitation, and hygiene." (Miss Eco Glam, 1 October 2011)
"In 2010, the United Nations recognised the human right to water and sanitation. Janine Selendy has produced a critical tool to help us take the next step forward in understanding the nature and causes of water and sanitation related diseases and in finding real solutions. The human right to water and sanitation is only as good as its implementation. This book leads the way." (Maude Barlow, Senior advisor on water to the 63rd president of the United Nations general assembly 2008-09, January 2012)
See More
September 27, 2011
Water and Sanitation-Related Diseases and the Environment
Connect with Wiley Publicity
The drought and famine once again blighting the Horn of Africa brings with it an unwelcome reminder that for all of mankind's achievements we are yet to eradicate the scourge of poverty or provide clean water, sanitation or basic health care for the world's most desperate people.
In her new title Water and Sanitation-Related Diseases and the Environment: Challenges, Interventions and Preventive Measures, published in collaboration with Horizon International, Janine Selendy explores the close relationship between sanitation, clean water supply and the environment to outline strategies for the prevention and eradication of water and sanitation-related diseases.
Written by experts from the fields of public health, medicine, epidemiology, environmental health, climate change, environmental engineering, and population research, this authoritative volume provides a thorough understanding of the interconnection among many factors linked to water related diseases, sanitation, and hygiene. It is brought together by Selendy who founded Horizon International, a non-profit organisation based at Yale University, in 1976.
"Horizon seeks to find and advance solutions thereby supporting ideas and initiatives that aim to inform and inspire positive action. We use peer-reviewed science and case studies from affected areas to examine interrelated issues including the environment and public health," said Selendy. "The comprehensive chapters in Water and Sanitation-Related Diseases and the Environment, reveal the interdisciplinary approach which is essential to finding answers to some of the world's most urgent problems."
Divided into eight sections Water and Sanitation-Related Diseases and the Environment, presents an analysis of the conditions responsible for water and sanitation-related diseases including the significance of the close relationships among water access, quality and hygiene.
The publication covers access to and the maintenance of clean water, and includes guidelines for the safe use of wastewater, excreta and greywater along with examples of solutions; this is presented with an emphasis on what is actually achievable in the real world, considering that 2.6 billion individuals have no toilets and 1.2 billion people are exposed to water-related illness from their drinking water.
Later chapters are dedicated to the role of environmental factors as well as the health impacts of human factors such as dam construction, irrigation development and flood control.
An accompanying DVD provides a further four hours of supplemental content as well as over 500 maps, tables and illustrations. A companion website will also include further updates and additional resources.
"Meeting water and sanitation needs, coupled with protection of the environment and prevention of pollutants, is essential to every effort to improve the health and living conditions of billions of people, said Selendy. "Meeting these needs is fundamental, not only to effectively diminish incidence of diseases that afflict a third or more of the people of the world, but also to improve education and economic well-being and elevate billions of individuals out of vicious cycles of poverty."
"The preventive measures and solutions presented here provide guidance for possible action on the local, national and international levels," concluded Selendy. "The problems of water quality and related diseases are international and they are complex, but the research represented here demonstrates how collaborative science can help us unravel the complex and build a better world."
See More