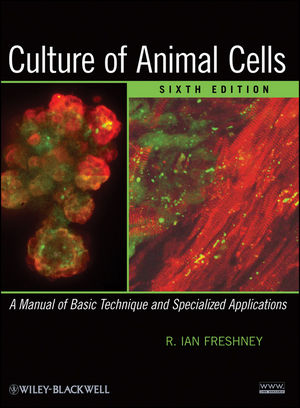 Textbook
Culture of Animal Cells: A Manual of Basic Technique and Specialized Applications, 6th Edition
Buy this textbook from:
ISBN: 978-0-470-52812-9
796 pages
October 2010, ©2010, Wiley-Blackwell
This is the sixth edition of the leading text in the basic methodology of cell culture, worldwide. Rigorously revised, it features updates on specialized techniques in stem cell research and tissue engineering; updates on molecular hybridization, somatic cell fusion, hybridomas, and DNA transfer; new sections on vitrification and Organotypic Culture, and new chapters on epithelial, mesenchymal, neurectodermal, and hematopoietic cells; germs cells/stemcells/amniocytes; and non-mammalian/avian cells. It is written for graduate students, research and clinical scientists, and technicians and laboratory managers in cell and molecular biology labs and genetics labs.
PowerPoint slides of the figures as well as other supplementary materials are available at a companion website: www.wiley.com/go/freshney/cellculture
More Information About this Book

Culture of Animal Cells: A Manual of Basic Technique and Specialized Applications, 6th Edition
Buy this textbook from: