Journeys to Significance: Charting a Leadership Course from the Life of Paul
ISBN: 978-0-470-52944-7
208 pages
March 2011, Jossey-Bass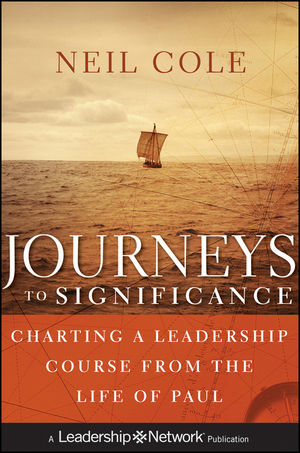 A powerful, biblically based model of leadership development based on the life of the Apostle Paul
All churches, denominations, and parachurch organizations are eager for new models of leadership development. Cole uses the life and leadership lessons of the Apostle Paul to show how to develop leaders who are skilled, dedicated, and always open to learning from experience.
Cole, a trusted, innovative authority, uses the four journeys of Paul to shows how leaders can grow to be more influential.
A publication from the acclaimed Leadership Network
Paul, the original "church planter," was very instrumental in the growth of Christianity—and a perfect model for today's leaders.
Shows how Paul's leadership developed over the course of his life to get better and better with time and maturity—and how they can do the same.
See More
About Leadership Network ix
Preface and Acknowledgments xi
Introduction: Life Is a Series of Adventurous Journeys xix
PART ONE BEGINNINGS 3
1. Born to a Destiny: The Fingerprints of God on the Early Years 5
2. New Life: A Sharp Detour onto a Straight Street 19
PART TWO MATURING IN MINISTRY AND LIFE 45
3. The First Journey: "For This I Was Born" 47
4. The Second Journey: Learning Can Be a Pain 65
PART THREE CONVERGENCE AND AFTERGLOW 93
5. The Third Journey: Convergence in Ephesus 95
6. The Fourth Journey: All Roads Lead to Rome 113
Conclusion: The Final Journey: Infl uence Beyond the Grave 133
Appendix 1: An Estimated Chronology for the Journeys of Paul 143
Appendix 2: What Went Wrong with the Jerusalem Church? 147
Notes 151
The Author 165
Scripture Index 167
Subject Index 171
See More
Neil Cole
is an experienced and innovative church planter and pastor. He is the founder of the Awakening Chapels, which are reaching young postmodern people in urban settings, and a founder and executive director of Church Multiplication Associates. He is the author of several books including
Organic Church and Church 3.0
, both from Jossey-Bass.
Neil blogs at www.cole-slaw.blogspot.com.
Leadership Network, a division of OneHundredX, seeks to accelerate the impact of 100X leaders. Since 1996, Leadership Network Publications have presented thoroughly researched and practical concepts from leading thinkers, practitioners, and pioneering churches. www.leadnet.org.
See More
More in this series