Web Development with the Mac
ISBN: 978-0-470-53399-4
Paperback
544 pages
March 2010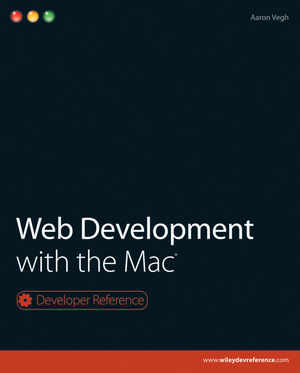 This title is out-of-print and not currently available for purchase from this site.
Other Available Formats:
E-book
June 04, 2010
Wiley Publishing presents book series focusing on Apple application development
Connect with Wiley Publicity
This year's Apple Worldwide Developer Conference kicks off Monday, June 7th at San Francisco's Moscone Convention Center. A live blog of the keynote event given by Steve Jobs will be broadcast on MacWorld.com at 10 am PDT (www.macworld.com) and the conference will run through June 11th. The WWDC is the premier technical conference for developers innovating with Apple technology.
Wiley Publishing, the #1 tech publisher, has published several helpful Apple development titles in its new Developer Reference Series. These books contain everything developers need to know to craft killer code for Apple applications. Focusing on topics that Apple developers love best, these well-designed books guide readers through the most advanced and very latest Apple tools, technologies, and programming techniques. With in-depth coverage and expert guidance from skilled authors who are proven authorities in their fields, the Developer Reference series is an indispensable Apple development resource.
The series launched in October 2009 with "Snow Leopard Server" (ISBN: 978047052131), an in-depth guide to handling all aspects of Apple's newest OS. "iPhone Game Development" (ISBN: 9780470496664) and "Cocoa Touch for iPhone OS 3" (ISBN: 9780470481073) followed shortly after. "iPhone Game Development" covers all the technical and commercial bases, from how to sign up for the Apple Development Program, master the development tools in the iPhone SDK, publish your game to the App Store, and convince people to buy it. "Cocoa Touch for iPhone OS 3" talks readers through the entire process of developing cool iPhone apps — from explaining Cocoa Touch and the iPhone SDK to using Xcode and the Game Kit API.
"Web Development with the Mac" (ISBN: 9780470533994) was published in March 2010. While most web site how-tos are geared toward either designers or programmers, this detailed book covers both aspects, helping readers develop the complete skill sets that they'll need professionally.
The next two titles in the series published in May 2010, "AppleScript" (ISBN: 9780470562291) and "Java and Mac OS X" (ISBN: 9780470525111). "AppleScript" is loaded with real-world tips and techniques that will help programmers increase their professional efficiency and become more valuable in their jobs. "Java and Mac OS X" teaches all the guidelines of integrating Java with native Mac OS X applications.
Upcoming titles in the series include:
Objective-C (ISBN: 9780470479223, Pub Date: December 2010)
and
Cocoa (ISBN: 9780470495896, Pub Date: December 2010)
For more information on the Developer Reference series, visit www.wileydevreference.com
About Wiley
Founded in 1807, John Wiley & Sons, Inc. has been a valued source of information and understanding for more than 200 years, helping people around the world meet their needs and fulfill their aspirations. Wiley and its acquired companies have published the works of more than 400 Nobel laureates in all categories: Literature, Economics, Physiology or Medicine, Physics, Chemistry, and Peace.
Our core businesses publish scientific, technical, medical, and scholarly journals, encyclopedias, books, and online products and services; professional/trade books, subscription products, training materials, and online applications and Web sites; and educational materials for undergraduate and graduate students and lifelong learners. Wiley's global headquarters are located in Hoboken, New Jersey, with operations in the U.S., Europe, Asia, Canada, and Australia. The Company's Web site can be accessed at http://www.wiley.com. The Company is listed on the New York Stock Exchange under the symbols JWa and JWb.