E-book
Designing the Smart Organization: How Breakthrough Corporate Learning Initiatives Drive Strategic Change and Innovation
ISBN: 978-0-470-53561-5
300 pages
October 2009, Pfeiffer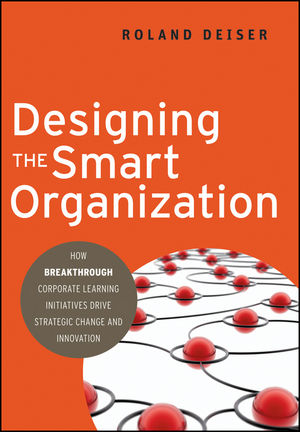 Filling a gap in the literature, this book offers an innovative interdisciplinary approach to learning for corporate strategic development, linking the domains of strategy, organizational design, and learning. To demonstrate how this process drives the boundaries of the practice way beyond the established notion of simple training and management education, the book is filled with detailed case studies from leading global organizations, including Siemens, ABB, BASF, the US Army, PricewaterhouseCoopers, EADS, Novartis, and more. These studies reveal how large-scale corporations are using the power of dynamic corporate learning approaches to drive innovation, enhance cultural values, master post-merger integration, transform business models, enhance leadership culture, build technological expertise, foster strategic change processes, and ultimately increase bottom line results.
For any company that wants to compete in the 21st century, Designing the Smart Organization offers inspiring perspectives for integrating corporate learning as a core business practice that will create sustainable strategic and organizational capabilities.
See More
Figures and Exhibits.
Introduction.

Part One: Conceptual Foundation.

1 The Corporate Learning Imperative.

2 Enlarging the Framework of Learning.

3 The Integration of Learning with Business Processes.

4 Implications for the Corporate Learning Industry.

5 The Convergence of Strategy and Corporate Learning.

Part Two: Case Studies.

1 Innovating Learning Through Design and Architecture (Unicredit).

2 Top Executive Leadership Learning (Siemens).

3 Phoenix from the Ashes: How a Corporate Learning Initiative Reinvented an Ailing Business (ABB).

4 Healing Post-Merger Chasms: Creating Corporate Values from the Bottom Up (EnBW).

5 Designing Customer Centricity for Multiple Market Segments: The perspectives Project (BASF).

6 Transforming the U.S. Army Through an Informal Leadership Learning Network (U.S. Army).

7 The Executive Hero's Journey: Going Places Where Corporate Learning Never Went Before (PricewaterhouseCoopers).

8 Managing the Strategic Asset of Cutting-Edge Technological Expertise (EADS).

9 Leadership Learning as Competitive Strategy in the Chinese Market (Novartis).

10 First Choice: The World's Largest Customer Focus Initiative (Deutsche Post DHL).

The Author.

Acknowledgments.

Index.
See More
Roland Deiser is the founder and executive chairman of the European Corporate Learning Forum (ECLF) and serves as a senior fellow at the Center for the Digital Future at the University of Southern California Annenberg School of Communication. He is an internationally recognized expert on strategy, organizational design, and innovation, with a focus on building strategic capabilities into large-scale systems. His professional work is strongly rooted both in both academia and practice.
See More