Conflict Resolution at Work For Dummies
ISBN: 978-0-470-53643-8
Paperback
360 pages
December 2009
US $19.99

Add to Cart
This price is valid for United States. Change location to view local pricing and availability.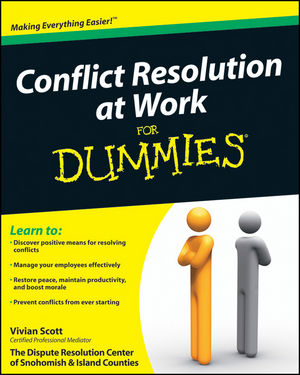 Other Available Formats:
E-book
December 14, 2009
Keep Your Job by Keeping Your Cool
Connect with Wiley Publicity
Advice from the author of Conflict Resolution at Work For Dummies®
Rumor has it that the economy is on an upswing, but plenty of workplaces have yet to feel it. Layoffs due to downsizing shine a spotlight on the daily pressures and strain of the unemployed, but the stress on those fortunate enough to keep their jobs may be overlooked. You may be one of any number of people who have found themselves in new or expanded roles they didn't sign up for. If you're now doing the work of five, suddenly managing co-workers who were your peers last year and resent your newfound power, or dealing with a boss who's gone missing in action one too many times because she just can't deal with all the changes, you may feel you shouldn't--or can't--make a job change. Many employees are reaching their boiling points and are turning to outside sources to help them resolve issues they feel could jeopardize their only source of income.
Let's face it; we often spend more hours with the people we work with than we do our family and friends. Sometimes, if we're lucky, our best friends are our co-workers. But even in the best of times it's not unusual to be faced with the guy three cubicles down from yours whom you'd just as soon clobber than look at again. Fold in a heightened sense of tension due to uncertain job security these days and even the smallest disagreements can turn into firestorms. What do you do when a conflict at work seems out of control; especially if you don't have the luxury of delivering a Jerry McGuire-esque speech to the entire office before making your dramatic exit with Renee Zellwegger in tow? Working it out in a way that calms the situation, improves your working relationship, and satisfies both your needs is ideal answer, but where do you start?
First, keep in mind that whenever you're in conflict with anyone (at work or anywhere else for that matter) both parties are not really against each other, they're just for themselves. If you can objectively look at the situation and put yourself in the other person's shoes, you're more likely to see what it is he wants and find a way to deliver that without diminishing your own needs. Asking someone you view as an adversary if he's willing to find a solution that works for both you often ends with a creative and satisfying solution. Thinking you have to beat him at his own game or publically humiliate him creates a loss for you as much as it does for him. Being seen as a bully or unnecessarily yelling at a coworker might feel good in the moment, but it leaves you with a tarnished reputation and you may never know the extent to which others go out of their way not to recommend you for promotions or raises. Bad behavior on your part will only put your name at the top of the list for the next round of layoffs!
Second, think beyond what appears to be the issue at hand. You may have had situations in the past in which you agreed to a resolution only to find that the same problem repeats itself over and over again. If you're fighting with a coworker about timely reports, chances are you're really disagreeing about deeper values such as respect and reputation and the reports are only a demonstration of the values you hold near and dear. Try having a conversation about what the issue represents for both of you. You might be surprised to learn that the hoopla isn't about reports at all but the tone in which you ask for them or that your boss feels you're disrespecting her authority when you miss a deadline. Keeping a positive line of communication open will keep the noise and chatter down and that can only be a good thing.
Next, control what you can control. If things are going crazy and it seems everyone is at each other's throats, choose the amount of energy you'll put into it. Even if the only thing you can control is how you'll make a graceful exit, put a plan together that has you leaving on good terms when you can afford to make a move. Change the way you look at the problem and talk about it terms of a learning experience with a hopeful ending. When asked, saying things like, "It's not been an easy time, but I'm confident we'll figure something out" will move others to see the conflict as resolvable. Heck, they may even see you as a leader, and that's not a bad thing if a boss has to decide whether to keep you over a coworker.
Finally, when your expectations don't fit the situation, even though you've tried everything you can imagine to make them fit, change your expectations. Notice that I said change, not lower. It may be possible that your expectations are what are causing your frustration and the conflict to continue. I'm not talking job performance issues here, but rather personal preferences for how another person behaves. Your frustrations will decrease if you can stop holding others to standards they don't know they're being measured against. Give yourself permission to get a new yardstick and laugh all the way to the bank; or at least every day that you're earning a paycheck.