Diabetes Cookbook For Dummies, 3rd Edition
ISBN: 978-0-470-53644-5
392 pages
January 2010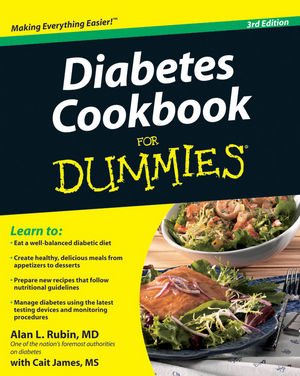 The fun and easy way to eat a well-balanced diabetic diet
Want to create healthy meals that are diabetic friendly? This revised and updated third edition of Diabetes Cookbook For Dummies shows you how easy it can be to manage diabetes through diet, including the latest information on diabetes testing, monitoring, and maintenance, as well as delicious new recipes and nutritional information. This edition also includes a new section that focuses on vegetarian dishes and a new chapter on encouraging a Type 1 diabetic child to eat properly.
Features changes in fat, carbohydrate and protein recommendations that parallel the recommendations of the American Diabetes Association regarding meal plans
Includes new ideas about restaurant eating, including new menu items at fast food locations as well as revised tips on food shopping and setting up the diabetic kitchen
Offers 100+ new and revised diabetic recipes
Complete with ways to involve children in meal planning and preparation, Diabetes Cookbook For Dummies will help you improve your diet and your health!
See More
Introduction.
Part I: Thriving with Diabetes.
Chapter 1: What It Means to Thrive with Diabetes.
Chapter 2: How What You Eat Affects Your Diabetes.
Chapter 3: Planning Meals for Your Weight Goal.
Chapter 4: Eating What You Like.
Chapter 5: How the Supermarket Can Help.
Part II: Healthy Recipes That Taste Great.
Chapter 6: The Benefits of Breakfast.
Chapter 7: Hors d'Oeuvres and First Courses: Off to a Good Start.
Chapter 8: Soup, Beautiful Soup.
Chapter 9: Taking Salads Seriously.
Chapter 10: Stocking Up on Grains and Legumes.
Chapter 11: Adding Veggies to Your Meals.
Chapter 12: Boning Up on Fish Cookery.
Chapter 13: Flocking to Poultry.
Chapter 14: Creating Balanced Meals with Meats.
Chapter 15: Having a Little Bite with Snacks.
Chapter 16: Smart Ways to Include Dessert in a Diabetic Diet.
Part III: Eating Away from Home.
Chapter 17: Making Eating Out a Nourishing Experience.
Chapter 18: Fast Food on Your Itinerary.
Part IV: The Part of Tens.
Chapter 19: Ten (or So) Simple Steps to Change Your Eating Habits.
Chapter 20: Ten Easy Vegetarian Substitutions.
Chapter 21: Ten Strategies to Normalize Your Blood Glucose.
Chapter 22: Ten Ways to Encourage Children to Eat More Fruits and Vegetables.
Part V: Appendixes.
Appendix A: Restaurant Descriptions.
Appendix B: A Glossary of Key Cooking Terms.
Appendix C: Conversions of Weights, Measures, and Sugar Substitutes.
Appendix D: Other Recipe Sources for People with Diabetes.
Index.
See More
ALAN L. RUBIN, MD, is one of the nation's foremost authorities on diabetes and prediabetes. He is the author of Diabetes For Dummies, Type-1 Diabetes For Dummies, Prediabetes For Dummies, Thyroid For Dummies, and High Blood Pressure For Dummies.
See More